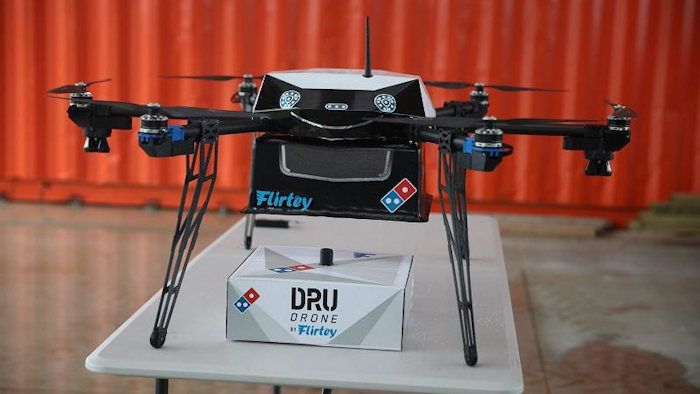 Drone delivery service Flirtey is making some high-profile partnerships to boost its business. After makinga 7-11 delivery under test conditions in the company's home state of Nevada, they've expanded to a Domino's delivery in New Zealand.
In Nevada, Flirtey operated under FAA rules as an FAA Test Site. In order to show the scalability of their work with Domino's, the flight in New Zealand took place under Civil Aviation Rules. The service is expected to be fully functional later this year, in which a select New Zealand Domino's store will send pizzas into the sky on board Flirtey drones. The partnership with 7-11 is also planned to continue, although it will focus on over-the-counter medicine and convenience goods, not necessarily hot food.
Flirtey drones have also been used to test the delivery of medication during crises in remote areas.
Flirtey drones have also been used to test the delivery of medication during crises in remote areas.
The Aug. 24 delivery put a hot pizza in the hands of a customer using autonomous navigation. In order to make sure the food arrived hot, the packaging had to be re-designed, too.
Flirtey's drone doesn't carry its cargo in a cargo box attached to its body, the way the proposed Amazon drone does. Instead, the cargo is tethered to the drone, which is made of carbon fiber, aluminum, and 3D-printed components. The project includes proprietary hardware and software, including an auto-return function in case the drone loses its GPS signal or otherwise can't communicate with its home base.
Cutting out the middleman is interesting from a technological standpoint, but it's also a good marketing tool for Domino's.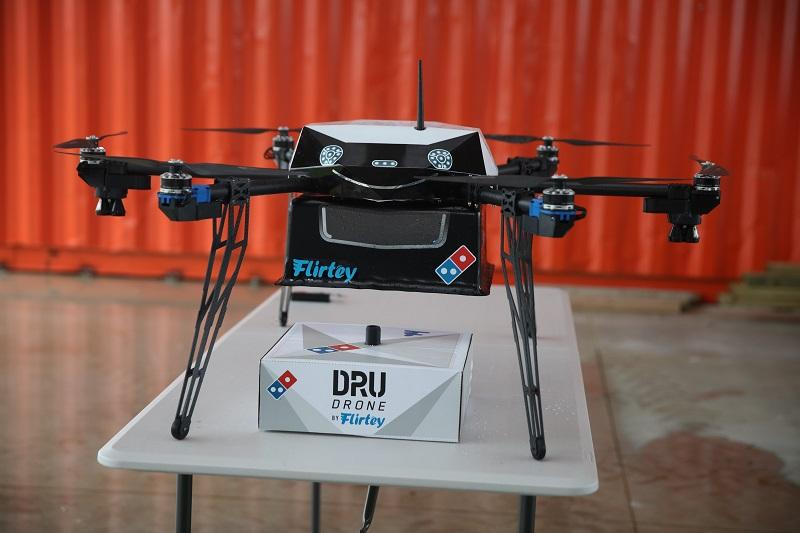 "Partnering with Flirtey to revolutionize the delivery experience is an achievement that will set our company apart in the minds of customers," said Don Meij, managing director and Group CEO of Domino's Pizza Enterprises.
"New Zealand has the most forward-thinking aviation regulations in the world, and with the new U.S. drone regulations taking effect on Aug. 29, Flirtey is uniquely positioned to bring the same revolutionary Flirtey drone delivery service to partners within the United States," said Matt Sweeny, CEO of Flirtey.
The new U.S. drone regulations he refers to are the FAA's Small Unmanned Aircraft Systems rules, which establish guidelines for non-hobbyist drones. In particular, the rule establishes the qualifications for a remote pilot certificate, which will be required in order for a person to legally fly a drone. It also establishes operational limitations, including maximum speed of 100 mph and maximum altitude of 400 feet.
Domino's is working on autonomous delivery in other ways, too. The Domino's Robotic Unit (DRU), a four-wheeled bot that can choose its own path, was also tested in New Zealand in March.