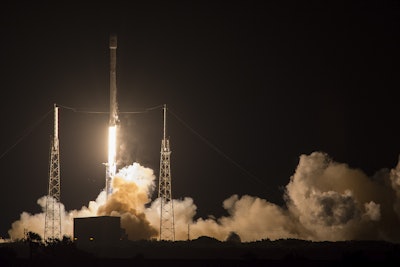 The first stage booster from a Falcon 9 rocket launched at 1:21 a.m. Friday morning and landed on a floating drone platform, marking the second time SpaceX has succeeded in landing at sea.
The rocket used three engines to slow down after its fast descent toward the platform. Although the type of rocket and the drone ship were the same as the ones used in the previous successful ocean landing, the Falcon 9 used for today's mission was going much faster. This was due to altitude it needed to place the payload, a broadcasting satellite for Japanese company Sky Perfect JSAT Corp.
This marks three times SpaceX has returned re-usable rockets to the ground, twice using floating platforms and once a stationary landing pad.
Although it is much more difficult to do from a technical perspective than returning a rocket to dry land, using a floating platform saves fuel, which translates to saving more money in the long run.
The satellite, known as JCSAT 14, was also successfully deployed at an orbit of 22,300 miles where it will orbit over the equator and begin bouncing television, data networking and Internet connectivity signals throughout Asia, Russia and the Pacific Islands in July.
SpaceX stores its recovered Falcon 9 stages at a hangar leased from NASA at Kennedy Space Center. Their next possible flight will take place no later than May 26 and will also be a delivery of a communications satellite.