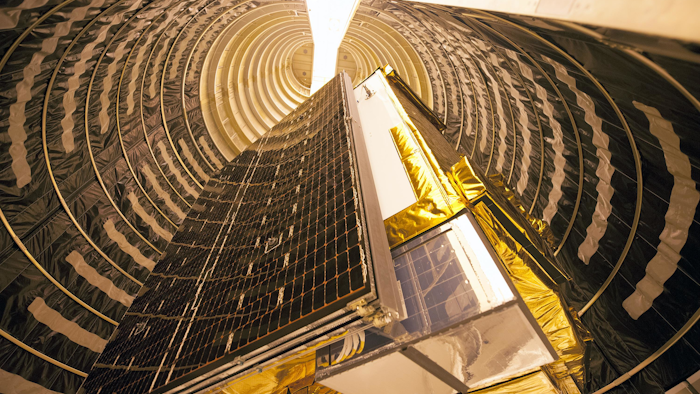 Today the Air Force and its Space and Missile Systems Center is set to launch number 11 of 12 IIF satellites into an 11,000-mile circular orbit around Earth. Florida's Cape Canaveral Air Force Station will host the launch.
As pictured, the Boeing-built GPS satellite is patiently awaiting its launch — via Atlas V 401 — from inside a four-meter-wide capsule. When deployed, the GPS will span 8.25 feet long, 6.75 feet tall and 6 feet deep.
The "GPS constellation" — currently comprising about 40 vehicles — provides enhanced global positioning and navigation for the Air Force and other military operations as well as civilians around the world, with implications ranging from traffic control to national security.
Compared with previously launched satellites, the IIFs have improved atomic clock technology and about a 12-year life cycle, as compared with 7.5 years of some currently in orbit. The oldest still-functioning satellite in orbit is set to turn 25 this November.
The 12th and last Air Force-supported GPS launch is set for Feb. 3, completing the series that started in 2010.
How do you think GPS technology should be improved? Comment below or tweet @MNetKatie.