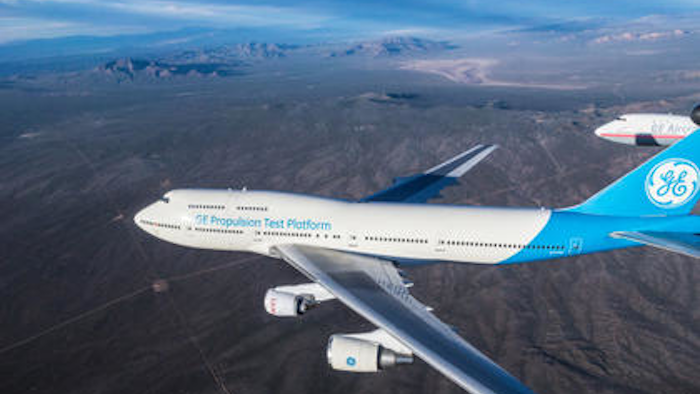 Humans have been living with ceramics for 25,000 years. We've been using them for cups, pipes, pottery and many other handy everyday objects. But the light, strong, and heat resistant material has one fatal flaw, which has kept it confined mainly to the cupboard. "When you hit it, it fails catastrophically," says Krishan Luthra, chief scientist for manufacturing and materials technologies at GE Global Research in New York. "I thought it would be the Holy Grail if we could get it inside machines, and get more power and savings out of our engines. It could really make an impact."
Luthra bet almost three decades of his career on making it work. "There were times where I wasn't sure it was going to work," Luthra told The Associated Press, which just published a story about his breakthrough. "But I guess I was too stubborn. I thought it was the right path."
Call it a billion-dollar hunch. Starting in the 1990s, Luthra and his team started studying a new family of materials called ceramic matrix composites (CMCs). Working in partnership with the Department of Defense, the team focused on one subgroup of CMCs that combined heat resistance with toughness.
The research almost died and then took a detour to space, but the team eventually came up with a version of the material good enough for jet engines. "If you don't do that right you get a ceramic that behaves like china, and if you do it right you get ceramic with metal properties, and that's the big deal," Luthra told the AP.
CMCs have now allowed GE engineers to build jet engines that could take planes farther and burn less fuel. That's because the material has two hugely winning attributes for aviation: it's one-third the weight of metal and it doesn't need to be air-cooled, which allows designers to build lighter and more efficient engines.
The first jet engine with static turbine "shrouds" made from CMCs  (above) is the LEAP, developed by CFM International, a joint venture between GE Aviation and France's Snecma (Safran). Although the engine won't enter service until next year, it is already the bestselling engine in GE history with 8,000 orders valued around $100 billion (U.S. list price).
CMC parts are made from silicon carbide ceramic fibers locked inside a ceramic matrix and covered with a thermal barrier coating. Last year, GE Aviation opened its first CMCs factory and formed a joint venture with Italy's coatings maker Turbocoating to prepare for large-scale production of CMC parts. Both plants are based in North Carolina.
The engine, designed for the latest single-aisle planes including Boeing 737MAX, Airbus A320neo, and Comac C919, is 15 percent more fuel efficient than current CFM models. "We took the long view and the high potential payoff justified the high risk," Luthra says.
But the static shroud for the LEAP is just one application. In February, GE engineers made an important breakthrough when they for the first time successfully tested rotating parts made from CMCs inside a jet engine turbine. "Going from nickel alloys to rotating ceramics inside the engine is the really big jump," says Jonathan Blank, who leads CMC and advanced polymer matrix composite research at GE Aviation. "CMCs allow for a revolutionary change in jet engine design."
GE is also exploring the use of the material for helicopter engines, and gas turbines and compressors for power plants. The new GE9X engine – the world's largest jet engine GE's developing for next-gen Boeing 777X wide body plane – will have core parts made from CMCs, as will the Passport engine for business jets.
Mark Little, the head of GE Global Research, says this multitude of applications illustrates the concept the company calls the "GE Store."
Says Little: "The GE Store is a place where every business can come for technologies, product development and services that no one else can provide."