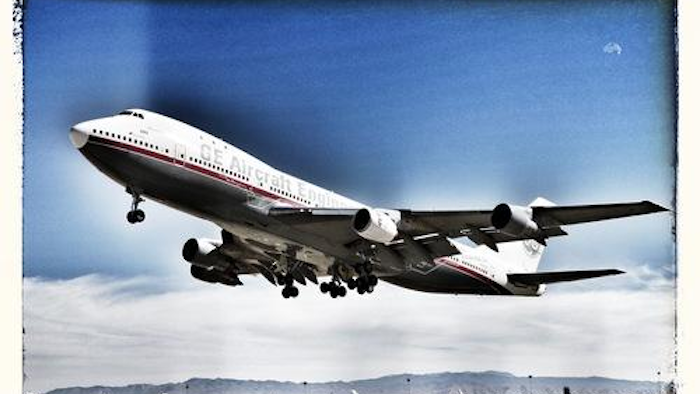 Over the last several weeks, crews at GE Aviation's flight test base in Victorville, CA, at the edge of the Mojave Desert, installed a next-generation jet engine with ceramic components and 3-D printed parts to the wing of a modified Boeing 747, and readied it for its maiden flight. The engine, called LEAP, successfully took to the skies on Monday.
The LEAP engine was developed by CFM International, a joint venture between GE and France's Snecma (Safran). The engine's unique design and materials make it 15 percent more fuel efficient than comparable CFM engines already powering thousands of Boeing and Airbus planes. It is also lighter, quieter and produces fewer emissions. CFM estimates that the LEAP can save an airline as much as $1.6 million in fuel costs per plane per year.
There are three versions of the jet engine: the LEAP-1A for the new Airbus 320neo passenger jets, the LEAP-1B for Boeing's 737MAX aircraft, and the LEAP-1C for China's COMAC C919 planes.
The LEAP is the bestselling family of jet engines in GE history. CFM has received more than $100 billion in orders (U.S. list price) from airlines like United, Air Asia, American Airlines and easyJet. They will use them on single-aisle aircraft, the fastest growing market in commercial aviation. A recent Boeing study projected that plane manufacturers will deliver more 23,000 single-aisle planes over the next 20 years. That's almost 70 percent of all commercial plane deliveries estimated over the period.
The first test flight lasted three hours and CFM said in a statement that the engine "behaved well and completed multiple aeromechanical test points at various altitudes." The company said that over the next several weeks, the engine will complete a comprehensive test schedule that will measure engine performance, operability, stall margin and acoustics.
"The LEAP engine behaved like a real veteran as we took it through its aerodynamic clearance points," said chief test pilot Steven Crane.
The flight was part of the most extensive certification program in CFM's history, which includes several dozen ground-based and flight test engines. The LEAP-1A is scheduled to enter service in 2016, the LEAP-1B the year after, and the LEAP-1C in 2018.
Read more about GE's innovations at GE Reports.