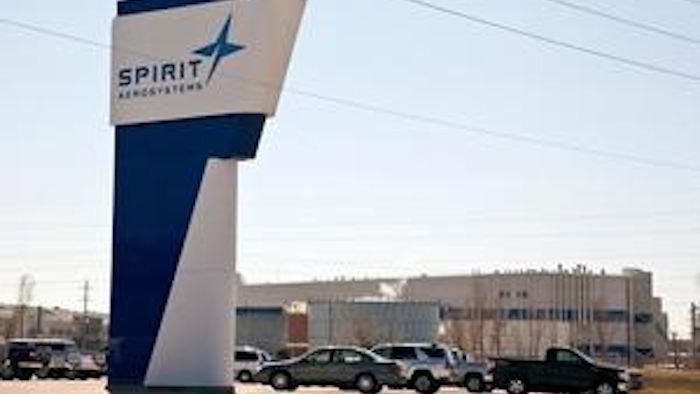 The Machinists union sued Wichita-based aircraft parts maker Spirit AeroSystems Friday over its reported efforts to sell off its fabrication operations, contending such outsourcing would violate its labor contract and put in imminent danger the jobs of at least 1,400 employees.
The lawsuit, filed in U.S. District Court in Kansas, seeks a preliminary injunction prohibiting Spirit from selling off any off its fabrication assets or laying off fabrication workers pending arbitration.
In an emailed statement, Spirit said it believes it is in compliance with its labor agreements and said it does not comment on pending litigation. Spirit noted that during an earning call last week, it had said it's constantly evaluating the strategic vision for the company.
"That evaluation is ongoing and we have made no decisions," the company said.
The lawsuit contends Spirit "surreptitiously has implemented plans" to sell its fabrication operation and eliminate union jobs. It recounts a May meeting between union officials and company executives to address rumors about a possible sale of all or some operations. The lawsuit contends the company informed the union it planned to sell its fabrication operation, resulting in the layoff of 1,200 employees. The company then told the union it would provide additional information on the sale on the condition the union entered a non-disclosure agreement.
Central to the litigation is what the union calls "one of the most extraordinary labor agreements in the history of the aviation industry" that put an end to contentious labor relations that had resulted in four Machinists strikes against Boeing over 20 years. Spirit acquired Boeing's commercial aircraft manufacturing facility in Wichita in 2005.
The union and Spirit in 2010 reached a 10-year contract that would give workers the long-term job security they desired while giving Spirit "a guarantee of labor peace" for many years. The union gave up its right to strike, accepted lesser general wage increases and in some instances even accepted reduced wages, according to the lawsuit. In exchange, Spirit agreed to maintain all major manufacturing operations in Wichita and talk to union officials about any decisions that might affect employees during the duration of the agreement.
The Machinists union now contends the company has betrayed the union's trust and repudiated the central provisions of the labor agreement. Its filing claims Spirit "intentionally concealed its plan" to sell the fabrication operation from the union.
The lawsuit also contends that in June company officials informed the union that Spirit planned to outsource more than 200 jobs in shipping, tools supply, paint stores and other support functions. It argued that unilateral decision to outsource those jobs, even though the move would not reduce costs, is also a breach of the contract.
Union officials have filed a formal grievance to address the contract issues and want the court to hold a hearing on its request for a preliminary injunction prohibiting the company from selling any fabrication assets until the arbitrator issues a decision.