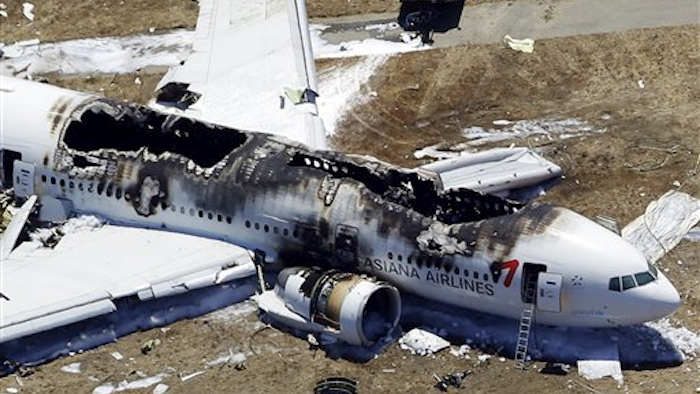 WASHINGTON (AP) -- The pilots of Asiana Flight 214, which crashed in San Francisco in July, as well as the airline, are raising the possibility that a key device that controls the Boeing 777's speed may have malfunctioned, an aviation expert familiar with the investigation into the crash said Tuesday.
National Transportation Safety Board Chairman Deborah Hersman said early in the crash investigation that her experts had found no mechanical problems with the plane, but were investigating further. One of the three pilots in the Asiana cockpit told investigators after the accident that he thought the plane's automatic throttle was maintaining speed as the plane descended to land, but later discovered it wasn't sending power to the engine, Hersman told reporters in briefings following the accident.
The autothrottle controls engine power and thus speed. Without enough speed, a plane can lose lift and sink quickly. In the case of Flight 214, the plane was flying low and slow as pilots attempted to land. The 777's landing gear struck a seawall just short of the runway. The impact ripped off the back of the plane, tossed out three flight attendants and their seats and scattered pieces of the jet across the runway as it spun and skidded to a stop.
There are many ways in which a pilot can engage and then inadvertently disengage an autothrottle. But the South Korean air carrier and the pilots involved have raised the possibility with investigators that the autothrottle disengaged on its own, said the expert, who spoke only on condition of anonymity because he wasn't authorized to speak publicly about the matter .
There have been previous incidents involving other Boeing planes — 757s, 767s and newer 737s — in which automatic throttles that were engaged have disengaged for no known reason, the expert said.
Boeing spokesman Bret Jensen declined to comment, saying that as a party to the investigation the aircraft maker is prohibited from speaking publicly about the accident.
The Asiana pilots' contention that the autothrottle may have malfunctioned was first reported by The Wall Street Journal.
NTSB investigators have left open whether the autothrottle was ever fully engaged. Inspectors found that the autothrottle had been "armed," or made ready for activation, Hersman said in her early briefings. But she said investigators still were determining whether it had been engaged. In the last two minutes, there was a lot of use of the autopilot and autothrottle, and investigators were going to look into whether pilots made the appropriate commands and if they knew what they were doing, she said.
The flight was coming from Shanghai and Seoul. Two Chinese students were killed and 180 injured in the crash. A third student survived the crash but died after being run over by a fire truck.
The NTSB has scheduled a public hearing on the accident for early November.