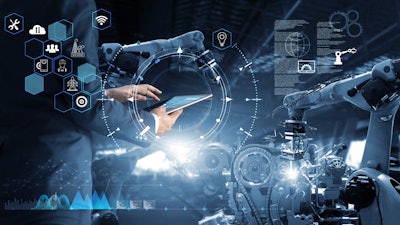 To understand just how quickly industrial manufacturers are evolving beyond their traditional produce-deliver-repair role, look no further than Kaeser Kompressoren.
While Kaeser still designs and builds compressors for the global market as it has for decades. it also has been working to expand and scale its repertoire and its business horizons with offerings like Sigma Air Utility, whereby it builds, installs, operates and maintains compressor installations on the customer's behalf, and the customer pays a fixed price for the air they use. Meanwhile, the data supplied by the Internet-of Things (IoT)-connected equipment flows back to Kaeser to be analyzed for predictive maintenance and, among other things, to provide engineering design with insight to inform product improvements and refinements.
For manufacturers like Kaeser, this strategic emphasis on outcome-based services built around smart, connected and customized products is driven by two factors.
First and most importantly, it's what more of their customers want.
Second, if it's done right, it can be immensely and sustainably profitable. An April 2020 analysis from the MPI Group found that for industrial manufacturers, the average profit margin on products with embedded smart devices/intelligence is 34 percent, compared to 29 percent for other products.
"The vast majority of R&D leaders [in the industrial manufacturing sector] report that smart products increased revenue (90 percent) and profitability (89 percent)," the report says.
As manufacturers shift to outcome-based services built around smart products, Industry 4.0 capabilities bring an important new dimension to engineering, enabling access to real-life usage data from actual products in the field. Not only does this pave the way for products to be designed to better fit performance requirements in the field, it helps to avoid over-dimensioning and under-dimensioning. This is important as manufacturers take on more of the risk in outcome-based services.
What's more, Industry 4.0 capabilities tighten collaboration and integration between engineering design and other parts of the business, so sensor data and insights from that data flow freely, not only internally within the business but throughout the entire value chain, with suppliers as well as customers.
What we're really talking about here is end-to-end, enterprise-wide intelligence, where real-time data and insight from connected assets, products, and factories flow seamlessly, enabling the entire value chain to work toward the goal of profitability delivering the kinds of products and services that today's industrial customer demands.
This high level of intelligent interconnectedness is a common thread among some of the best-performing companies in the industrial manufacturing sector, a 2020 analysis from Oxford Economics found. Based on a survey of executives at 3,000 industrial manufacturing companies, the analysis determined that the sector's best-performing companies "have integrated communication and data-sharing processes across the business, increased transparency into operations, broken down organizational silos, and invested in collaborative technologies."
Put into practice, that interconnectedness through Industry 4.0 gives manufacturers an edge in two key areas:
1. It puts engineering design where it belongs: closer to the end customer and thus in a better position to understand how products are used and what end customers expect from them. End customers today want smart, customizable products, and pay-as-you-go and usage-based services bundled with those products. With the ability to capture customer requirements, based on actual usage information, then tailor design and production at scale accordingly, manufacturers gain the means to fulfill the end customer's expectations.
Customization at scale can only succeed if a manufacturer's engineering design teams have unfettered access to information and insight about how products are made, used and maintained. Customer-centric innovation doesn't happen in a vacuum. Rather, it's the result of engineering design working off the same data-derived insight (about customer preferences, production requirements, in-use operational demands, etc.) as the production side of the operation, and with the aid of technologies such as digital twin (the digital representation of a physical asset or system), figuring out how to meet the needs of the business and the customer most efficiently.
With the ability to capture customer usage data from IoT sensor-equipped products, and to collect customer data and insights from other aspects of the business (sales and service, for example), a manufacturer not only can reduce friction points and improve the customer experience, they can leverage that in-use data to design better products and better product-and-service bundles.The sensor-equipped, IoT-connected products a manufacturer makes provide a continuous feedback and improvement loop for product enhancements based on actual usage and product behavior at the customer installation.
2. It makes designing for manufacturability a more practical undertaking. Industry 4.0 digital tools are particularly valuable to manufacturers for their ability to connect, align and reduce friction between the engineering and manufacturing sides of the business, and across the operation as a whole. When there's greater alignment and understanding between these sides of the business around processes, workflows and priorities, the outcomes for the business itself, and its customers, tend to be much more favorable.
That certainly has been the case for Chinese construction equipment manufacturer Guangxi Liugong Machinery Co. Ltd., where innovation is shared and cross-functional teams collaboratively explore and model new ways to create unique value for customers. Liugong has 19 production lines across almost as many factories. A central digital platform connects all data and information flow among R&D, manufacturing, supply, sales, and services, increasing efficiency and transparency.
This approach fosters tight collaboration between sales, production and design, so a company can profitably deliver on its promise to create custom-tailored products to exacting customer technical specifications. Essentially, it makes designing for manufacturability a more streamlined, collaborative process.
Companies can gather and analyze data across machines and business systems — the intelligent enterprise in action — with data-driven models to recommend variants for additional personalization to customer orders, executed through a modular manufacturing approach. By integrating product and process information, manufacturers gain the ability to manage a supplier- and customer-integrated process from product design to supply chain, manufacturing, sales, and aftermarket services.
As companies like Liugong and Kaeser are proving, when engineering design is synced with the rest of the manufacturing enterprise and connected to the entire value chain, the possibilities are boundless.
Bernhard Meyer and Johannes Papst are solution managers for SAP. They focus on design and development, and manufacturing processes respectively.