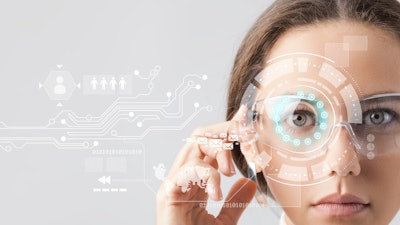 Strengthened by both technological enhancements and pandemic-fueled needs, Industry 4.0 strategies involving machine learning, artificial intelligence and augmented reality have moved past the realm of "great promise" to a growing number of real-world applications. And, according to Sreenivasa Chakravarti, vice president of manufacturing at TCS (a global IT consultancy), the next step in applying these Smart Manufacturing initiatives will include the ability to assess and predict behaviors in order to improve production efficiencies.
Dubbed Neural Manufacturing, we recently sat down with Chakravarti to discuss these strategies and their potential impact on U.S. manufacturing.
Jeff Reinke, Editorial Director: How would you define Neural Manufacturing, and what are its origins as a strategy?
Sreenivasa Chakravarti, VP of Manufacturing Business Practice at TCS: TCS terms neural manufacturing as an intensely networked set of partners aligned to a common purpose, where the value chains are responsive, adaptive, and personalized, with intelligence built on the 'edge' of the networks. In simple terms, neural manufacturing helps organizations build a responsive, adaptive, and personalized value chain where every stakeholder is able to adapt their behavior to gain and support a competitive advantage through the application of digital technologies like AI, IoT, automation and machine learning. 
The move towards agile and lean manufacturing has been a goal for many businesses for quite a while. However, the pandemic forced manufacturers to quickly make significant and sudden shifts by adopting technologies and practices that provide resilience and adaptability.     
JR: Are there certain areas of the enterprise where this approach has proven to be especially helpful?
SC: To prepare for rapidly changing customer needs and preferences, some of which may alter the fundamental nature of product, companies have to resort to broader ecosystem partnerships, some even with competitors to adapt and shorten the time to market.
Neural manufacturing relies extensively on an information fabric to fuel the cognitive behavior of its business processes. Therefore, functions which are able to harness the abundance of data are able to secure larger gains.
Take manufacturing and supply chain operations. Here visibility enables significant gains in driving maximum operational efficiency. Additionally, through the advent of smart connected products, after market functions and services such as remote monitoring and diagnostics have also been early adopters of neural manufacturing. From predictive maintenance services and up-time based outcome priced services to clients, companies are now using such data in their planning based on client asset utilization levels to predict services demand.
JR: Are there certain industries that have gravitated towards this approach more quickly?
SC: The principles outlined by us for neural manufacturing can be adopted rapidly by most of the manufacturing industry segments. However, discrete manufacturers, who have a head start with digital investments, especially in the product design and enterprise operations, will naturally gravitate towards this approach.
With a larger spectrum of opportunities to exploit, both on the customer side as well as the operations and product sides, the automotive industry will potentially be a natural leader with their significant investment in autonomous and connected mobility. However, capital intensive industrial products provide an equally large opportunity driven by the demand for asset availability and performance.
JR: What are the biggest challenges to implementing this approach?
SC: The challenges vary based on the role that the enterprise seeks to play in the manufacturing arena. For securing market leadership, the challenges will be both internal and external. Internally it will emerge in the form of building the information fabric, innovating to create smart, intelligent products and in establishing strategic capabilities including people skills and technology infrastructure. Externally, it will be in orchestrating a purpose driven ecosystem and establishing the business and operating models around it.
JR: How do you see this approach helping manufacturers now? A year from now?
In the short term, neural manufacturing enables resilient, machine first supply chains, which are imperative in an economy that remains uncertain and volatile. In turn, this allows organizations to be adaptable to any internal and external factors while working towards their end goal – which is sustainable competitive advantage. Also given that a neural manufacturing network is location-independent, this caters to the agile norm of today and creates more opportunities, rather than challenges in a world of distributed demand and supply.
As for down the road, the autonomous capabilities that come with neural manufacturing help organizations engage with smart connected products and assets in real time. Through this, organizations deeper in their journey can eliminate the interface friction phase. Even farther down the road, adaptive abilities can help manage the variabilities introduced by the move from mass, to lean, and to personalized and customized mass manufacturing. This allows manufacturers to adjust to anomalies that come with a personalized process and allows organizations to engage in B2B2C business models where both customer and consumer are taken into consideration.
JR: What are your general perceptions on the current health of U.S. manufacturing?
SC: In a recent TCS global survey, manufacturing firms globally were cautious in their outlook for the industry recovery, as 40 percent of the companies expect the recovery to take hold only in the next 2-5 years. Despite the short-term setback, we feel the industry is well positioned for the future. Most strategic R&D and capex investments by companies were intact during the pandemic.
U.S. manufacturing recovery is underway as indicated by the increase in capacity utilization to around 70 percent, closer to the 75 percent utilization levels prior to the pandemic-related shutdowns. Recent manufacturing PMI also indicates a steady pace of manufacturing expansion after rebounding from lockdowns.
In general, the convergence of technologies is giving rise to new economic models, funded by both existing enterprises as well as venture capital. These new sources of competitive advantage put the U.S. in a healthy position to drive growth, given its strong background of technology-led innovation, especially digital technologies, driven by a strong start-up ecosystem.