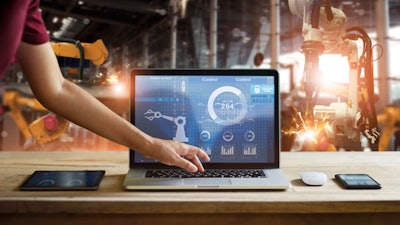 The concept is not new, but that doesn't mean the story can't evolve.
To say the global socio-economic environment has shifted in the last two years would be a dramatic understatement. But along with the new challenges that a pandemic has created, including supply chain disruptions, inflation, etc., new strategies with far-reaching impacts have also been brought to the forefront. We recently sat down with Keith Higgins, vice president of digital transformation at Rockwell Automation, to get his thoughts on the challenges and opportunities that now confront the industrial sector.
Jeff Reinke, editorial director: How do you think advanced manufacturing technologies have helped manufacturers either preserve or drive growth over the past year?
Keith Higgins, VP of Digital Transformation - Rockwell Automation: Over the past year, we have seen manufacturers prioritize several technologies for various use cases to drive growth:
Digital thread helped connect business processes across an organization – from product and process design to operations – all with real-time insights to enable agile decision-making, accelerated innovation and increased quality and efficiency. Digital thread serves as a record of the evolution of an organization's entire operations – physical machines, manufacturing processes, automation code and maintenance steps – providing visibility into their past, present and future state. Digital thread also allowed manufacturers to increase efficiency by managing their supply chain and enabled control and eligibility to be as responsive as they could for products and services. Digital thread also helped manufacturers pivot production lines to answer accelerated demand for products, such as PPE and hand sanitizer.
Augmented reality (AR) helped manufacturers train and assist workers remotely to adapt to travel restrictions and pivots in production to address market demands for protective equipment and healthcare tools. AR also helped re-skill employees for new operations and other critical areas such as safety, maintenance and quality assurance.
Connected operations enabled a new level of equipment monitoring and assessments, which helped manufacturers maximize their existing infrastructure in a time where capital expenditure management was a priority. Going digital allowed manufacturers to upgrade programs and systems to maximize production and adjust manufacturing capabilities as needed.
AI allows for better control, visibility and volatility, which helped manufacturers enable more remote operations amid the pandemic. Enterprises that leveraged AI had a critical advantage. As AI powered autonomous operations, enterprises leveraging the technology were able to operate more safely and efficiently.
JR: Despite a growing number of manufacturing jobs, there seems to be fewer total and qualified applicants. What are your thoughts on the number of unfilled positions and the growing skills gap?
KH: While U.S. manufacturing activity has surged, the industry has more than half a million job openings, which could ultimately cost the US economy up to $1 trillion by 2030. Furthermore, about 70 percent of manufacturers say the biggest impacts of robotics on the workforce will be an increased need for talent to manage a more automated, flexible production environment that will include more robotics and their operating systems.
As the manufacturing workforce ages, new tools are needed to make the remaining team as versatile as possible. Talent acquisition is becoming a priority to attract the next generation of workers with improved human infrastructure applications.
Leveraging remote training tools, such as augmented reality (AR) and 3D-based work instructions, allows workers to train with experts remotely and optimize capture and delivery. As augmented workers are the next generation of the manufacturing workforce, these technologies, including AI and autonomous operation, attract new talent and improve machine integration.
Using advanced technologies to train workers enables them to analyze performance in real-time, troubleshoot issues more quickly, improve productivity and avoid significant downtime for unforeseen repairs. This will ultimately make the manufacturing workforce more connected and data-driven, narrowing the skills gap while avoiding safety and compliance risks.
JR: How do you think supply chain management has changed over the last 18 months?
KH: As manufacturers need to increase production and improve resilience, while driving efficiency and compliance, companies are increasingly seeking to upgrade their production systems with modern, cloud-based manufacturing execution systems that are easy to implement, use, and maintain. Because of this, manufacturers are favoring solutions to connect, automate, track and analyze their operations and supply chains.
What's more, strong partnerships between manufacturers and suppliers are critical to plan accordingly around availability of materials and people, as we continue to see supply chains stressed. Over the past 18 months, we've witnessed increased supply chain disruption leading to long lead times, material shortages, rising prices and transportation difficulties. By adopting a stronger digital transformation strategy amid the COVID-19 pandemic, manufacturers were able to successfully meet their productivity goals and create a competitive advantage through their supply chain.
JR: The COVID situation has led many manufacturers to take a hard look at re-shoring at least some of their production capabilities. Do you think we'll see a legitimate surge in U.S.-based manufacturing as a result?
KH: Amid the pandemic, it became clear that there were many global supply chain dependencies. Because of this, companies are revisiting strategies for their manufacturing operations. Manufacturers are now seeing how important it is to have strategies with less dependencies in place, and we will see how these strategies play out in the coming months.
JR: If you could provide the U.S. industrial sector with one gift, one wish granted, one super power, etc. what would it be?
KH: The power for enterprises to fully digitally transform operations in an instant. As a result, enterprises can reach their full potential with faster innovation, more operational efficiency and the best possible workforce.