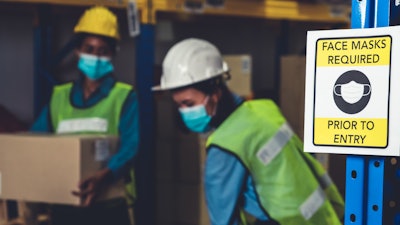 Prior to the onset of the ongoing pandemic, Siemens' Real Time Locating Systems (RTLS) were primarily used to track products and materials on the facility floor. However, as the company realized the system's ability to help combat worker safety issues resulting from COVID, the RTLS was transitioned for use as a contact tracing and contact violations monitoring tool for plants - including their own 115,000 square-foot analytical products and solutions manufacturing facility in Houston.
Workers are asked to wear an electronic tag, which has an assigned ID number to ensure privacy. These tags can be tracked in real time as employees move throughout the facility – ensuring social distancing and, when workers test positive for COVID, to share location data in alerting co-workers who might have been working in the same area. Siemens states that the technology can also be used in targeting work cells that might be in need of deeper cleaning, as well as in identifying potential hotspots on the plant floor.
We recently sat down with Nicole Lauther, head of business development for Siemens' RTLS to get more details on the system, its transition to new applications, and how Siemens is dealing with COVID-related production challenges.
Jeff Reinke, editorial director: Some plant workers see these tools as a "Big Brother" type of technology. How would you respond to that, and what has been the overall response of plant workers to this tool?
Nicole Lauther, Siemens RTLS Head of Business Development: Our experience has shown that once you explain what the technology does and how it keeps workers safe and/or helps them in their daily work, the response has been overwhelmingly positive.
JR: What type of data is contained within the platform? Are there any security concerns?
NL: The RTLS system provides location data (x, y, z), unique identification number (each badge has a unique Tag ID, but is not directly associated with an employee), timestamp, and battery status of the tag. The software identifies which tags were in a risk scenario - meaning too close for a certain amount of time, allowing for contact tracing. You can also see where those risk scenarios happened in the facility which helps to eliminate hotspots/ high traffic areas where it happens on a frequent basis.
When a person gets sick it is not only important to contact trace, but to also identify where a person was in the facility in order to apply cleaning and disinfection procedures properly, focused on those areas. It is entirely up to the customer what employee information needs to be associated with the tag ID, how long the data is being saved and if the data should be integrated into any host system (ERP, MES, HR database).
JR: What level of investment are plants looking at with a tool like RTLS?
NL: The investment depends on size of the facility (location area) and number of workers that need to be located (number of tags needed).
JR: How have usage and implementation procedures for RTLS changed over the course of the pandemic? How might they change going forward?
NL: RTLS wasn't originally invented for social distancing or contact tracing. When the pandemic started we came up with a solution that incorporated our existing product portfolio and added software functions specifically meeting social distancing and contact tracing protocols.
This is a big differentiator as our solution can be used for "traditional" use cases like asset tracking, warehouse and logistics applications and people locating for safety reasons and/or process optimization. RTLS is a future investment and can be used beyond COVID-19 for many other use cases in production and logistics indoors and outdoors.
Examples include production control, asset tracking, forklift/AGV traffic control and usage optimization, worker safety, visitor tracking, and access control fleet management. Once the infrastructure is installed, the RTLS solution can be transformed for its other uses by repurposing the employee badges for assets/objects.
JR: How has Siemens weathered the COVID storm?
NL: As a U.S. manufacturer, Siemens was able to weather the COVID storm while simultaneously helping other factories and essential businesses remain up and running. As COVID-19 took hold, Siemens rapidly equipped 20,000 essential employees with personal protective equipment to keep them safe while maintaining critical infrastructure. We utilized technology where possible – for example, we had engineers who couldn't travel to see manufacturing customers, but turned to virtual testing and commissioning of products as an alternative.