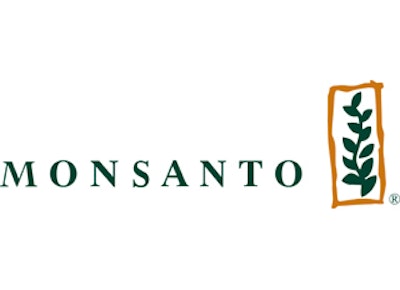 (AP) — Monsanto Co. will offer investors an update on its expansion into developing markets like Asia and South America when it reports its fourth-quarter results Wednesday morning even as the agricultural giant faces government scrutiny at home.
WHAT TO WATCH FOR: Signs that Monsanto is accelerating sales in emerging economies like Brazil, Argentina and China.
In June, Chinese regulators approved the importation of Monsanto's Intacta soybeans, the first variety of the bean that has been genetically modified to repel insects. The new soybean is expected to roll out in Brazil next season and Argentina the year after. Both countries are major exporters to China.
Monsanto, which has dominated the bioengineered-seed business for more than a decade, has said it expects international sales to account for half of its growth in biotech seeds for fiscal 2013. Its corn and soybean seeds have genetically engineered traits that the company says benefit farmers enough that they come out ahead, despite the seeds' higher cost.
The company has indicated it expects ongoing earnings growth in the "mid-teens" for fiscal 2014, based on the company's international growth.
Meanwhile, Monsanto continues to face negative scrutiny from both consumers and government officials at home.
There is no substantive scientific evidence to show that foods grown from engineered seeds are less safe than their conventional counterparts, but several state legislatures are considering bills that would require them to be labeled so consumers know what they are eating. Consumers have shown increasing interest in avoiding genetically modified foods, even though most corn and soybeans grown in the U.S. already contain genetically modified traits.
The U.S. Department of Agriculture is currently investigating the discovery of a strain of Monsanto's genetically modified wheat in a farmer's field in Oregon. No genetically engineered wheat has been approved for U.S. farming, and the department is investigating how the modified wheat got in the field.
WHY IT MATTERS: Monsanto has bet its future on its biotech seed business.
The company historically sold chemicals, from pharmaceuticals to pesticides, and most of its agricultural business had been driven by chemicals like the herbicide Roundup. But Roundup isn't the cash cow it used to be, in part because competition from generic products from China and other nations has dragged down the price Monsanto can charge.
Expanding sales of its newer, patented seeds to markets like Brazil, Argentina and China is key to Monsanto's growth.
WHAT'S EXPECTED: Analysts polled by FactSet expect Monsanto to report a loss of 43 cents per share on sales of $2.26 billion for the quarter.
LAST YEAR'S QUARTER: The St. Louis-based company posted a loss of 44 cents per share on revenue of $2.11 billion.