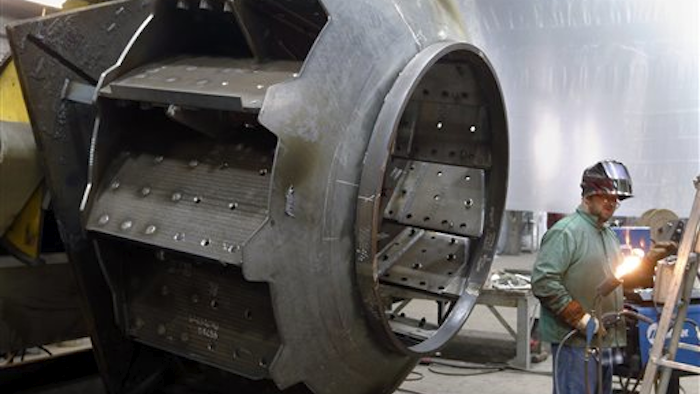 Economic activity in the manufacturing sector expanded in September for the 33rd consecutive month, and the overall economy grew for the 76th consecutive month, say the nation's supply executives in the latest Manufacturing ISM Report On Business.
Despite the prolonged growth, many experts suggested the latest report's positive numbers hid some weakening when examined in detail. "In a clear sign of further weakening in the U.S. manufacturing sector, the Institute for Supply Management (ISM) index fell from 51.1 percent in August to 50.2 percent in September, its third consecutive decline," notes Cliff Waldman, director of economic studies for the MAPI Foundation, the research affiliate of the Manufacturers Alliance for Productivity and Innovation. "This is the lowest level for this widely followed index since May 2013; it comes quite close to the 50 percent mark separating growth from contraction."
"We're at a soft point where people are uncertain which way things are going. This month's PMI is really a reflection of that uncertainty," says Bradley J. Holcomb, CPSM, CPSD, chair of the ISM Manufacturing Business Survey Committee. "Looking at new orders, we have seven industries reporting growth and nine industries reporting a decrease. That's not the right balance obviously."
Data Revisions
Unfortunately, it looks like the longer term manufacturing "boom" post-recession is also in need of some tempering.
According to MAPI, one recent economic factor to note is the five-year data revisions by federal statistical agencies. Every five years, government statisticians use the results of a census of business to establish a new benchmark that can lead to large revisions extending back over the previous half-decade. According to MAPI, the Federal Reserve's industrial production statistics and the Census Bureau's Manufacturers' Shipments, Inventories, and Orders data series were revised in August 2015, integrating data from the 2012 Economic Census, 2013 Annual Survey of Manu-factures (ASM), and revised data from the 2011 ASM.
"The bottom line is that manufacturing growth since 2010 was 4.5 percent slower than last reported, averaging about 0.9 percent less growth each year," said MAPI's Dan Meckstroth in the U.S. Industrial Outlook, September 2015. "The largest downward revisions were in 2012 and 2013. Manufacturing production was previously set at 3.4 percent growth in 2012 and 3 percent in 2013, but was revised down to 1.5 percent and 1.7 percent, respectively.
"We thought that manufacturing had fully recovered from the 2008-2009 recession last year. Unfortunately, the revisions show manufacturing is still in the recovery phase of the economic cycle. Manufacturing industrial production has to grow another 3.4 percent in order to reach the pre-recession production level achieved in December 2007 — that's at least another year of manufacturing industrial production growth."
The Bright Points
Despite some of the negative and neutral projections, there is still a lot of positive forecasting out there when it comes to manufacturing and its potential for growth. According to the Cushman & Wakefield report "Where in the World: Manufacturing Index 2015," the United States ranked highest in the Americas and 4th globally as a desirable manufacturing location thanks in part to its low-risk environment.
In a follow-up report by Cushman & Wakefield published this past August, the advisors on property investment suggest that the U.S. is likely to see more manufacturing companies returning. "A growing number of companies are reinvesting in U.S. plants and equipment and relocating manufacturing facilities stateside," said Cushman & Wakefield's Manufacturing in North America study. "Nike Inc., for example, announced it could create up to 10,000 manufacturing jobs in the U.S. The athletic shoemaker joined Walmart Stores Inc., Apple Inc., General Electric Co and Ford Motor Co., and other U.S. businesses in deciding to relocate and create jobs back home. Walmart is also on track with its plan to buy an estimated $250 billion in U.S.-made goods from 2013 to 2023."
Besides the potential for a positive reshoring trend, there are other bright spots. ISM's Holcomb also points to the struggling oil and gas industry, and though they may have to pull back, lay off employees and table or cancel projects, "for most of the rest of our industries, it means lower raw material prices and lower costs to run their factories. In that sense, it's a benefit to manufacturing."
Additionally, the weak numbers from the latest report may mean a near term softening but, says Holcomb, "it looks like its ticking up if you look at consumer confidence. Manufacturing has to catch up with that through new orders."
Take a look at manufacturing growth rates by industry, according to MAPI:
Motor vehicles and parts production growth is surprisingly strong and low gas prices encourage the purchase of large, expensive vehicles. "We expect production growth to remain strong this year and next but flatten out in 2017."
Medical equipment and supplies production decelerated from double the rate of growth in manufacturing to merely average.
The forecast for household appliance production is for growth of 5% in 2015, 6% in 2016, and 4% in 2017.
A rebound in pharmaceutical production is coming from new blockbuster patent-protected products. Pharmaceutical and medicine production should increase 3% in 2015, 4% in 2016, and 5% in 2017.
Iron and steel production is forecast to decline 11% in 2015, increase 3% in 2016, and post no growth in 2017.
Fabricated metals production should post moderate gains of 1% in 2015 and 3% in both 2016 and 2017; alumina and aluminum production should be up 5% in 2015, 5% in 2016, and 4% in 2017.
Construction machinery production should increase 7% in 2015, 1% in 2016, and 3% in 2017.
Mining and oil and gas fi eld machinery production is predicted to decline 14% in 2015, fall 17% in 2016, and then grow 14% in 2017.
Industrial machinery (capital equipment for specific nonmetallic manufacturing industries such as woodworking, plastics, paper, textiles, printing, food products, and semiconductors) production should grow 4% in 2015, 9% in 2016, and 6% in 2017.
HVAC production growth is forecast to be 1% in 2015, 5% in 2016, and 4% in 2017.
Metalworking machinery (industrial molds; metal cutting and forming machine tools; special tools, dies, jigs, and fixtures; and miscellaneous metalworking machinery) production will increase 1% in 2015, 5% in 2016, and 4% in 2017.
Aerospace products and parts production should increase 4% in 2015, 7% in 2016, and 7% in 2017.