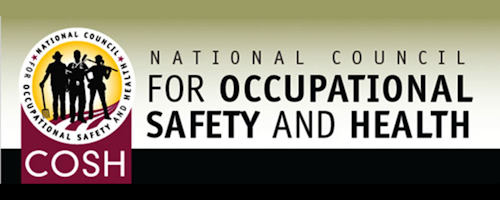 SAN DIEGO, CA — The National Council for Occupational Safety and Health (National COSH) announced this week "The Dirty Dozen" employers of 2017, highlighting companies that put workers and communities at risk due to unsafe practices. The Dirty Dozen 2017 report is being released in observance of Workers' Memorial Week, honoring workers who lost their lives on the job, as well as those who suffered workplace injuries and illnesses.  
"Every day in the United States, workers are getting hurt, getting sick and dying from preventable causes," said Jessica Martinez, co-executive director of National COSH. "We know how to make our workplaces safer. We're calling on these companies to implement effective health and safety programs including, which must include worker participation. These firms need to eliminate workplace hazards and take action so that every worker can return home safely at the end of his or her shift."
The "Dirty Dozen" for 2017
Atlantic Drain Services Roslindale, MA: Two workers died in a trench; manslaughter indictments; new Boston ordinance to revoke permits for companies with poor safety records.
California Cartage Long Beach, CA: Death of a driver; serious violations in GA and CA; lack of machine safeguards, faulty brakes and other hazards.
Dedicated TCS Lansing, IL: Worker died inside a confined space; company cited three times for similar violations; $226,000 in OSHA fines.
Dollar General Goodlettsville, TN: "A fire disaster waiting to happen"; over 100 citations and $1 million in fines for blocked exits; former Labor Dept. official calls for criminal prosecution.

Environmental Enterprises, Inc. Spring Grove, OH: Worker killed in a chemical explosion; OSHA describes a "complete disregard for employee's safety"; indictment for involuntary manslaughter and reckless homicide.

Fuyao Glass America Dayton, OH: Workers exposed to broken glass without proper protection; 23 serious OSHA violations; extensive complaints from workers, who are exposed to risk of amputation.

Nissan USA Franklin, TN: Five workers dead in five years; $99,000 in proposed OSHA fines; workers say they fear losing their jobs if they report injuries.

Pilgrim's Pride Greeley, Colorado: Death in a poultry processing plant; worker loses fingers because management "did nothing" to address amputation risk; exposure to toxic ammonia.

PrimeFlight Nashville, Tennessee: Exposure to blood borne pathogens; 22 OSHA violations in three years; OSHA cites conditions "likely to cause death or serious harm."

TransAm Trucking Olathe, Kansas: "Frozen Trucker" fired for protecting his own safety; company wages seven-year court battle; Worker wins $280K in back pay.

Samsung Seoul, South Korea: 200+ serious illnesses, 76 deaths; refusal to disclose information, claiming "trade secrets"; secret plan to "dominate employees" and "punish leaders."

Valley Garlic Coalinga, CA; X-Treme AG Kerman, CA: Four migrant workers dead after crash of illegal transport van; U.S. Dept of Labor lawsuit; contractor enjoined from transporting agricultural workers. 
"The dangerous conditions at these "Dirty Dozen" companies show why we need more enforcement of our safety laws, not less," said Jordan Barab, former deputy assistant secretary for occupational safety and health at the U.S. Department of Labor. "Proposed budget cuts for OSHA and other safety agencies are penny wise and pound foolish. Preventing injuries, illnesses and fatalities in the workplace not only reduces a terrible toll of human suffering — it also saves billions of dollars for employers and taxpayers."
Data presented in the National COSH "Dirty Dozen" report show that the decline in deaths from workplace trauma since the original Occupational Safety and Health Act was passed in 1970 are reducing costs to employers and taxpayers by over $200 billion a year. If workers were still dying at the rate experienced in 1970 – 18 per 100,000 full-time workers, as opposed to 3.4 per 100,000 in 2015 – the U.S. workforce would experience more than an additional 23,000 deaths per year. Each workplace death costs a projected $8.7 million in legal and medical expenses, lost productivity and other costs.
During the last two years, however, deaths from workplace trauma have increased significantly, from 4,585 deaths in 2013 to 4,836 deaths in 2015, demonstrating the urgent need for stronger and more effective safety measures. In addition, Latino/a workers continue to suffer a higher rate of workplace fatalities than other ethnic groups, with four deaths for every 100,000 full-time employees.
Intimidation by employers is a major obstacle to accurate reporting injuries and workplace safety hazards, making it more difficult to correct unsafe conditions. "At Nissan, I've seen workers hurt so bad they are crying, but they are afraid to report their injuries," said Everlyn Cage, a former employee at Nissan USA in Canton, MS. "They saw what happened to other workers and they are afraid of losing their jobs."
The tragic events outlined in the "Dirty Dozen" report can also be a catalyst for action, said Jeff Newton, Membership and Communications Coordinator at the Massachusetts Coalition for Occupational Safety and Health (MassCOSH). "We're going to remember Kelvin Mattocks and Robert Higgins during Workers' Memorial Week," said Newton. "And we've also taken action to prevent further tragedies. From now on in Boston, construction firms with poor safety records are not just putting workers at risk – they're at risk of losing their building permits."
Mattocks and Higgins drowned in a trench in Boston last October when their employer, Atlantic Drain, failed to follow basic safety precautions. The city of Boston responded with a new ordinance tightening requirements for construction firms. The state of Massachusetts is considering legislation to increase penalties for work-related fatalities and Atlantic Drain and its owner, Kevin Otto, have been indicted for manslaughter.
The Dirty Dozen report includes recommendations to make U.S. workplaces safer, including:
Implementation of comprehensive workplace health and safety programs
Ensuring all workers the right to freely organize
Stronger protections for workers of color, immigrants, temporary workers and other vulnerable populations
Thorough investigation of workplace safety and health incidents and stronger enforcement mechanisms to hold employers accountable and deter future violations.