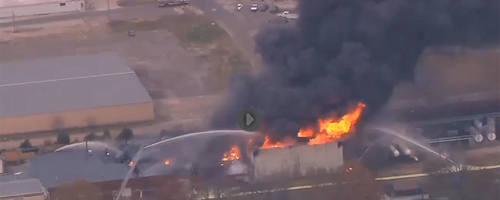 Portions of a southeastern Kansas city were evacuated Tuesday following explosions and a fire at a local chemical plant.

The Associated Press reports that two blasts occurred at the Airosol Inc. plant in Neodesha at about 7 a.m. The company employs about 40 people producing aerosol, liquid and specialty chemicals for industry.

One employee was taken to a hospital in Wichita, about 100 miles away, with non-life-threatening injuries.

Several blocks surrounding the plant were evacuated and schools in the city of about 2,500 were closed for the day. Authorities also ordered residents to boil drinking water before use.

Firefighters remained on the scene as of Tuesday afternoon. KOTV-TV reported that the fire died down after consuming most of the building, but authorities remained concerned about chemical tanks on the premises.

The cause of the incident remained under investigation, the AP reported.