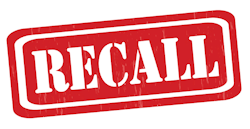 WASHINGTON, Feb. 21, 2018 (USDA FSIS release) — A & A Finest, a Corona, New York establishment, is recalling 572 pounds of frozen pork and shrimp dumpling products due to misbranding and an undeclared allergen, the U.S. Department of Agriculture's Food Safety and Inspection Service (FSIS) announced Wednesday. The product contains egg, a known allergen, which is not declared on the product label. 
The frozen, ready-to-cook pork and shrimp dumpling items were packaged on various dates between May 2, 2017 and December 6, 2017. The following products are subject to recall:
37 cases containing 200 pieces of "PORK & SHRIMP SUI-MAI," with an Item # of PS24-200, and packaging dates of 05/02/17, 06/23/17, 07/26/17, 11/29/17 and 12/06/17.
The products subject to recall bear establishment number "EST. 34524" inside the USDA mark of inspection. These items were shipped to hotel restaurants in New York.
The problem was discovered on Feb. 20, 2018 during routine FSIS label verification activities. The dumpling wrapper ingredient label includes pasteurized liquid whole eggs and egg whites in the list of ingredients; however, the finished product label does not declare egg.
There have been no confirmed reports of adverse reactions due to consumption of these products. Anyone concerned about an injury or illness should contact a healthcare provider.  
Consumers who have purchased these products are urged not to consume them. These products should be thrown away or returned to the place of purchase.