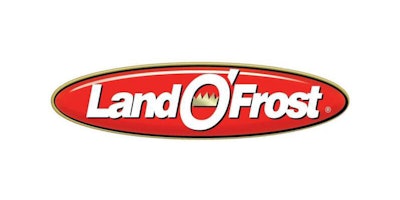 MUNSTER, Ind. (May 11, 2017) — Land O'Frost, Inc., one of the nation's best-selling brands of pre-sliced, pre-packaged lunchmeats and a producer of specialty sausage products, announced Thursday that all three of its manufacturing plants have won North American Meat Institute's (NAMI) 2016 Worker Safety Recognition Award. This is the 16th consecutive year that Land O'Frost has been selected for this honor, which further solidifies the company's industry leadership in worker safety.
"People come first at Land O'Frost, which is why we're always evaluating new technologies and further enhancing employee training to grow and improve our worker safety efforts," said Shawn Lynn, Director of EH&S at Land O'Frost. "These investments have really made a difference for both our employees and our company, and we're incredibly proud to be recognized by NAMI."
NAMI's Worker Safety Award recognizes leaders within the food industry who have made significant improvements to worker safety in an effort to reduce occupational injury and illness. It's the highest honor offered by the NAMI for worker safety, and this year, it was only awarded to 23 of the 110 plants who participated in the program, including Land O'Frost.
Land O'Frost uses a variety of tools and methods to help foster a safe environment for its employees. For example, a team at each processing facility is charged with identifying potential ergonomic hazards and developing solutions that help reduce them. Land O'Frost is also currently implementing a stretch program that engages ergonomists to visit each facility and create different stretches that employees can perform during their shifts. The stretches are specific to different job titles within the plant and will help warm the body up prior to activity while decreasing the risk of muscle related injuries. Additionally, Land O'Frost's new Redzone system includes an electronic safety checklist that employees are required to complete throughout the day.
The company also received NAMI's Environmental Tier II Award, which is presented to companies that have made significant efforts to reduce waste and minimize environmental impacts by designing and implementing a ground-breaking plant upgrade, environmental platform or outreach initiative.
"We're regularly evaluating energy savings initiatives to ensure that all of our plants are more environmentally friendly," said Justin Kobler, Vice President of Manufacturing at Land O'Frost. "We recently replaced our boiler with a steam generator in our Searcy plant, which will reduce natural gas usage and is a much safer system. Other efforts we've made include water-saving programs and starting the process of changing all lights in our plants to energy efficient LEDs."
About Land O'Frost
Founded in 1958, Land O'Frost is a leading manufacturer of pre-sliced, pre-packaged lunchmeats and specialty hot dogs and sausages. The company is the largest family-owned brand of packaged deli meat in the U.S. Leading brands marketed by Land O'Frost include: Land O'Frost Premium® One Pound, the top-selling deli pouch in the U.S.; DeliShaved®; Bistro Favorites™ and the company's newest line of heart-healthy lunchmeats, Simply Delicious™. Land O'Frost products can be found in supermarkets and mass merchandisers nationwide, as well as in Mexico, Puerto Rico and other U.S. Territories. Headquartered in Munster, Ind., the company operates three manufacturing facilities in Lansing, Ill., Madisonville, Ky. and Searcy, Ark. For more information, please visit www.landofrost.com.