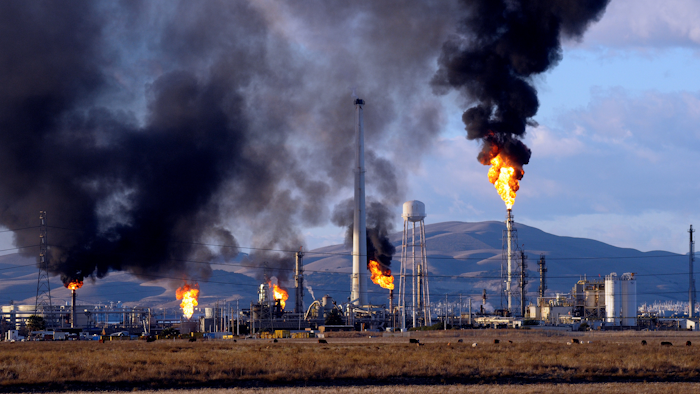 The U.S. Chemical Safety Board released a case study report this week slamming Tesoro Martinez Refinery in California for safety failures that likely contributed to multiple incidents in 2014.
According to the agency's investigation, lax oversight, improper safety equipment and pressure on employees to work in dangerous conditions all set the stage for the accidents.
One of the accidents occurred in February when an estimated 84,000 pounds of sulfuric acid were released and two workers were burned. Then in March, sulfuric acid sprayed and burned two contract workers as they attempted to remove piping.
The investigation also examined a dozen other instances between 2010 and 2014 where workers were injured by sulfuric acid in the refinery's alkylation unit.
The CSB listed a number of criticisms of safety culture at the refinery such as how it characterized one of the 2014 incidents as minor when it should have been reported as serious under industry guidelines; how it exposed workers to hazardous materials, vapors, acids and corrosives; failing to provide safety equipment; withdrew from safety programs; and placed a perceived pressure on workers to expedite training and reduce costs.
One worker reported to the CSB that he used his stop work authority in 2014 to prevent a release of flammable hydrocarbon even though he was being pressured by management to keep the unit running.
Reuters reports that Tesoro said in an emailed statement it has made safety upgrades at its refinery.
"We agree on the critical importance of continually learning from incidents and improving the safety of our operations, and inaccuracies in the case study do not detract from our resolve to learn from these incidents," a Tesoro spokesman said.
According to Reuters, Tesoro did not specify what aspects of the investigation it considers inaccurate.
As with all CSB investigations, the agency offered tips for refineries to improve safety procedures and avoid similar incidents. However, the agency holds no regulatory powers and can only make recommendations.