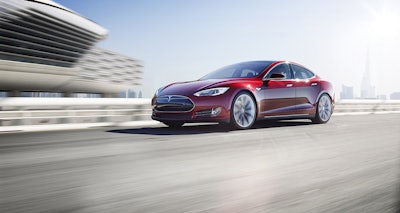 Tesla is recalling about 53,000 vehicles due to potentially faulty parking brakes, the company announced this week.

The electric vehicle maker said that electric parking brakes on a small percentage of Model S sedans and Model X SUVs built between February and October 2016 could include an improperly manufactured gear from a Tesla supplier.

If the gear breaks, the parking brake could remain stuck in place, the company said. The defect does not interfere with normal braking and would not fail to hold a vehicle or stop in an emergency.

"We do not believe this issue could ever lead to a safety concern for our customers, and we have not seen a single accident or injury relating to it," Tesla said in a statement.
Although less than 5 percent of vehicles affected by the recall include the faulty part, Tesla said that its design made it difficult to identify the problem and issued a recall of all 53,000 vehicles "out of an abundance of caution."

Customers will be notified about the recall by mail and email and provided information on replacing the parking brakes. Repairs take less than 45 minutes and Tesla and its supplier should have enough parts for all affected vehicles by October.