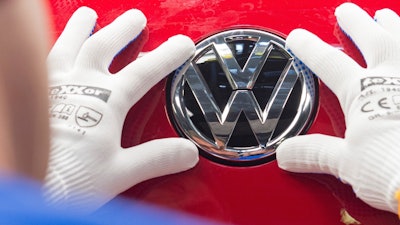 Volkswagen and the U.S. government are asking a judge to approve a $2.8 billion criminal penalty against the automaker for cheating on diesel emissions tests.
Federal Judge Sean Cox is holding a hearing Friday in Detroit, six weeks after the German automaker pleaded guilty to conspiracy and obstruction of justice. The judge wanted more time to consider the plea deal and fine negotiated by VW and the U.S. Justice Department.
VW admits that nearly 600,000 diesel cars in the U.S. were programmed to turn on pollution controls during testing and off while on the road.
Separately, VW is paying $1.5 billion in a civil case brought by the government and spending $11 billion to buy back cars and offer other compensation. Seven employees have also been charged.