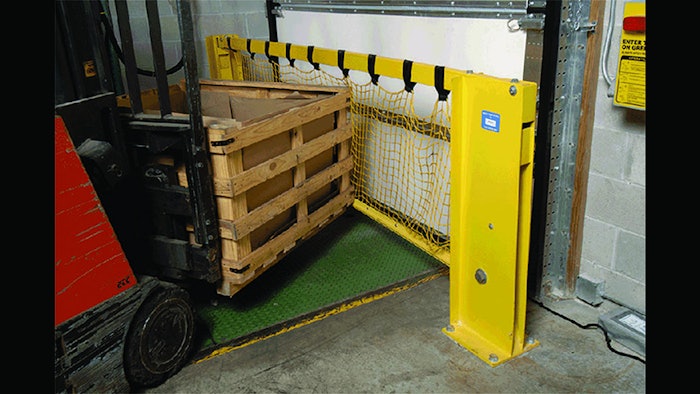 Every day across the U.S., thousands of dock personnel start and end their shifts without incident. However, that's not always the case. In fact, 110,000 major forklift accidents occur each year which cost workers more than 100 lives, according to the U.S. Department of Labor and the Occupational Safety and Health Administration (OSHA).
With one in six workplace deaths in the U.S. being forklift-related, the vast percentage is due to personnel being crushed by the forklift tipping over or being crushed between the vehicle and a surface. One of the highest risk areas is the space between the loading dock and the trailer, with the average height difference at four feet between the trailer floor and the ground below.
While shifting trailers lacking a proper restraint most often come to mind, they're not the only safety concerns at the dock. The good news is that safety risks at the dock are easily prevented with an integrated approach and the right equipment.
Managing your loading dock operation as an integrated system is key to ongoing dock safety. This includes effectively restraining trailers, ensuring that dock levelers are well-maintained for peak operation, establishing fail-safe alert and warning systems, maintaining a dry working environment and interlocking all your equipment via a master control panel.
Safety Starts With Trailer Restraints
Effective trailer restraint is, of course, the primary safety concern on any dock. A trailer accidentally moving away from the dock — whether due to premature departure or trailer creep (also known as dock walk) — can potentially lead to a life and death risk.
One loading dock injury in such cases due to a lack of proper safety measures can easily reach more than $1 million, which means that trailer restraints are no longer a luxury item. Unfortunately, many companies wait until they experience a "near miss"; that is, an accident or injury that almost occurred due to a trailer that moved.
And while OSHA mandates that trailers be chocked at all loading docks, with restraints as a viable substitute, many companies simply rely on standard wheel chocks alone. However, that presents a problem due to the need to rely solely on the driver to ensure that the chocks are properly in place. In addition, it doesn't take much force for a trailer to run over or move the chocks.
Restraints — either manual or powered — are truly the most effective solution to keeping trailers secure. They also provide a visual indication via LED communication lights that clearly confirm whether a trailer is restrained or not.
Manual mechanical restraints are simply activated using a push bar to engage or release the restraint from the trailer. Powered restraints, on the other hand, offer more ease of use, are push-button activated and offer multiple communication options.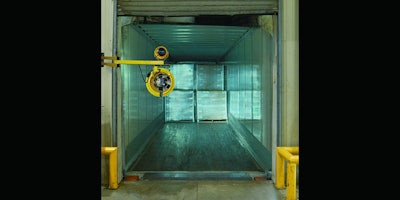 Always Rely On A Leveler's Built-In Maintenance Strut
The next most important area of safety concern pertains to dock levelers. Levelers are integral to virtually every dock operation and are designed to provide a safe transition between the loading dock surface and the trailer floor. To provide the highest degree of safety, dock levelers need to be inspected periodically. And critical to the inspection process are properly functioning maintenance "struts" integrated into the leveler's design.
During inspections and maintenance operations, always rely on the leveler's maintenance strut to properly secure the unit. Never prop up the leveler using a chain or a 4x4 timber. You'll risk catastrophic failure along with injury or death if someone is in the way if the leveler drops. In addition, if a leveler's lip is not functioning properly, never rely on human strength alone to hold it in place or such actions could result in serious injury.
Consider as well that vertical storing levelers provide the added safety of being able to lock or unlock a unit in the upright position, instead of from underneath, during maintenance or when it's not being used. In addition, a vertical storing leveler with a lock accessible from outside the unit provides a good visual cue for supervisors. Visibility from beside, or even behind the unit, provides an even higher level of safety and better visual communication as to whether the leveler is locked or unlocked. If the lock is in the "out" position, the leveler is ready for lowering. If the lock is switched to the "in" position, the leveler is secured.
Additional dock leveler safety features include accessibility to an emergency stop button (for hydraulically-controlled units) that will freeze the leveler action. Both hydraulic and air-powered levelers typically feature free-fall protection devices that limit the amount the leveler will fall in the event of a premature trailer departure.
Additional Layers Of Protection
While properly operating and maintaining restraints and levelers help to ensure safe dock operation, there are three additional layers of protection to keep in mind as well: a visual alert and warning system, HVLS (high volume low speed) fans and a master control panel to integrate your entire dock operation.
Clear visual cues for the dock operator are vital to helping prevent accidents. A forklift driver may not always hear a high-decibel alarm, especially when a lot of noise is occurring in the dock area. A much more effective alert system involves a dock light interlocked with the dock position's trailer restraint that strobes brightly if premature trailer separation should occur.
In addition, an often-overlooked safety feature for dock operations is the use of HVLS industrial fans. While typically viewed as a solution to keep workers cool in non-climate controlled operations, HVLS industrial fans also help to maintain dry floors. Excess moisture don't only potentially present a very unsafe environment for employees walking on dock floors, it too can present safety risks when a forklift needs to stop quickly. And because concrete floors cool down significantly overnight, humid conditions the following morning will cause moisture to condense on the floor surface. HVLS fans will dry out the floors quickly and efficiently.
Lastly, a master control panel can easily sequence your entire dock operation by interlocking the equipment to work in a particular order. For example, a dock leveler will not operate until the vehicle restraint has engaged the trailer.
This is especially useful for new employees or even seasonal staff who may not fully understand the proper sequence of your dock operation. Interlocking via the master control panel also means personnel cannot operate a specific piece of equipment, such as unlocking a restraint if, for example, a dock leveler is still in use.
Conclusion
Safety at the loading dock is clearly much more than properly designed, engineered and maintained trailer restraints and dock levelers. Your entire dock operation will benefit greatly from a few additional and well-integrated layers of protection, ensuring your employees' safety from an accident that could otherwise have been prevented.
Rich Schlesinger is Manager, U.S. Distribution Sales, Loading Dock Products for Entrematic, a Carrollton, Texas-based company that manufactures loading dock and associated equipment under the Kelley and Serco brand names. Rich can be reached via phone at 214-641-0552 or email at rich.schlesinger@entrematic.com.