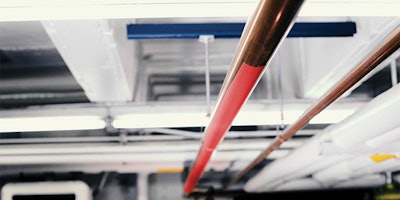 Contamination is a critical concern at food processing facilities. One of the more difficult contamination pathways to control is the result of incidental condensation. The threat posed by incidental condensation is a very real food safety risk; recently the FDA found deadly contamination outbreaks attributable to condensate dripping from overhead surfaces into open food containers during the production process.
To properly manage condensation, it is important to understand the causes, risks and management options available.
A major source of condensation is the sanitation cycle in facilities such as meat processing plants. One of the first steps of the sanitation cycle involves using pressurized hot water to clean and remove excess material from production lines. This step is important because subsequent foaming and disinfecting steps are rendered less effective if excess proteins and lipids are present. The use of hot water in a cool environment leads to significant condensate forming on overhead surfaces. Overhead surfaces are generally cleaned less often than food contact surfaces, increasing the potential that condensate will absorb harmful bacteria or chemicals. As a result, hanging droplets of condensation formed are a potential vector of contamination.
Three of the main threats condensation pose are:
Listeria: Listeria species, more specifically Listeria monocytogenes, are bacteria commonly found in soil that thrive in cold environments like food processing facilities. Ingestion of food contaminated with L. monocytogenes can lead to listeriosis, an infection that can cause serious illness or death.
Spoilage microorganisms: Consumers expect to purchase and eat food safely through the labeled expiration date. However, exposure to spoilage microorganisms — such as molds, yeasts and bacteria — can cause foods to expire prematurely.
Plant shutdown: Food processing facilities are under heavy scrutiny by the USDA and FDA. Inspectors are trained to identify key safety issues, including condensation. During these routine inspections, areas of greatest concern are food contact surfaces, niches and areas directly above food processing lines (i.e. zone one areas). Overhead condensation above zone one areas must be managed, and food manufacturers can receive violations — or worse, a shutdown — if they do not properly manage condensate.
Because no food processing facility is immune to condensate, managing it effectively is important. The FDA and USDA have regulations and references on where condensation needs to be managed, but less information is offered on how best to mitigate it. There are four ways facilities can manage sanitation induced condensation: manual removal, compressed air, HVAC equipment and film.
Manual removal — Manual removal is one of the most common techniques for managing condensation. Manual removal consists of removing water droplets from overhead surfaces using an extended mop or squeegee. However, these techniques are labor and time intensive, generally requiring 30-60 minutes with two-to-four people per room following sanitation cycles. Further, these techniques, while effective at removing overhead condensation, have the potential of spreading condensation and associated contaminates to adjacent surfaces or knocking contaminated droplets onto underlying food processing equipment.
Compressed air — Compressed air is a faster option than manual removal because one person can cover a larger area in a shorter amount of time. It involves spraying high-velocity air at surfaces to remove the condensate. While it removes the condensate from overhead surfaces, it also aerosolizes the water and associated contaminants across even larger distances than manual removal techniques. This technique may reduce labor resources required to manage condensate, but it can lead to cross-contamination.
HVAC — Installing or upgrading HVAC systems to manage condensation is another technique employed by food processing facilities. This process can greatly help reduce the amount of condensation and its duration on surfaces. However, HVAC upgrades are expensive and often still require additional condensation management techniques.
Film — Modern films have been designed to help facilities manage condensation and specifically address sanitation induced condensation. These films, which are applied to overhead surfaces, spread condensate over a large surface area, thereby increasing the evaporation rate by up to 10 times relative to bare surfaces. In addition, the film minimizes the release and transfer of hanging water droplets, eliminating the need to manually remove condensate following the sanitation cycle. The elimination of manual intervention allows customers to reallocate resources to other operations in the plant which can save time and increase productivity.
A cost-effective method or combination of methods is essential to combatting the risk of condensation contamination to help safeguard the health of food processing facilities and their customers. Evaluating the options available and understanding the labor, costs and food safety implications for each mitigation technique is critical when determining a plan to address this challenging source of potential risk.