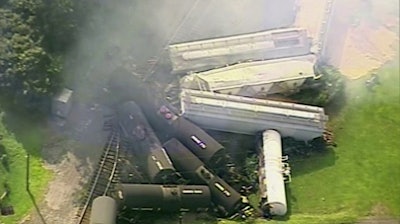 HARRISBURG, Pa. (AP) — Crews encountered air brake problems before a 178-car freight train derailed in Pennsylvania earlier this month, causing hazardous material to ignite and forcing nearby residents to evacuate, federal investigators said.
The National Transportation Safety Board's preliminary report issued Monday said a crew stopped the CSX Transportation train before the Aug. 2 wreck, applied 58 hand brakes and recharged the air brakes.
After that crew's shift ended, a second crew thought the train might still have air brake problems and kept the hand brakes on but wasn't able to move the train down a hill near the borough of Hyndman, the report said.
The engineer switched from locomotive power to dynamic braking three times before one car derailed nearly 2 miles (3 kilometers) before the larger derailment and fire, the agency said.
"NTSB is investigating many factors into the cause of the derailment, including the length, makeup, and operation of the train, as well as the condition of the rail cars and track," the report said.
The derailed car moved further off the track while crossing a highway, triggering the full derailment in Hyndman, a town near the Maryland border about 100 miles (161 kilometers) southeast of Pittsburgh.
Investigators found that several rail car wheels near the derailed section showed signs of wear, indicating the hand brakes did not allow the wheels to rotate, as well as evidence of brake pad friction.
A car that contained molten sulfur failed, releasing its payload and starting a fire that raged for more than 48 hours.
Another car let out propane gas, which also burned for about two days. A third car released asphalt, which pooled and solidified.
Thirty-three cars in all derailed, and about a thousand people were evacuated. There were no injuries, but one house was nearly cut in two and a garage caught fire.
The train had been going from Chicago to Selkirk, New York.
As a result of the crash, Amtrak had to suspend train service between Pittsburgh and Washington, D.C.