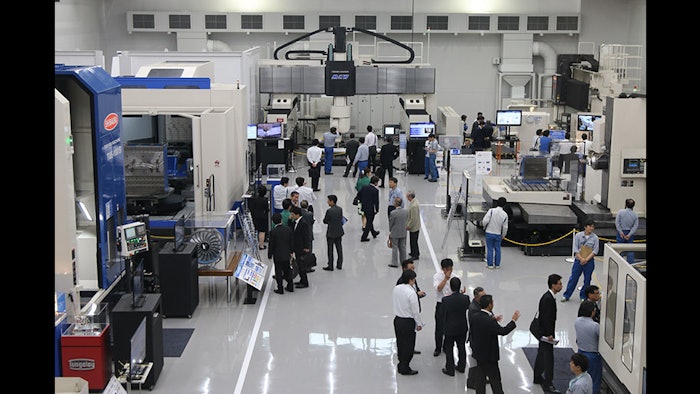 NUMAZU, Japan —Toshiba Machine Co., Ltd. announced the opening of a new technical center for machine tools in its Gotemba plant in Japan that incorporates numerous features for developing machine tool businesses. The Technical Center conducts test machining of workpieces using actual machines for helping customers resolve machining issues and serves as a base for disseminating manufacturing information in the machine tool field by proposing new element technologies and new machining methods.
Test Machining Using The Latest Equipment
The center has an exhibition area of 1,125 m2 where the newest equipment is installed as a permanent exhibit. In addition to test machining of workpieces using actual machines, the Technical Center also allows measurement of machining accuracy of workpieces. Besides actual machining, the Center also provides proposals for new machining technology and element technology for tailoring machines for specific applications.
Features For Developing Machine Tool Businesses
The two-story Technical Center (total floor space: 2,095 m2) and 5-story technology wing (total floor space: 8,595 m2) incorporate features for developing machine tool businesses.
Based on the test machining conducted in the Technical Center, Toshiba Machine is striving to develop products and quickly bring technologies to customers that meet their needs.
Environmentally-Friendly Design
The Technical Center and technology wing are high energy efficiency structures with a low environmental burden that are rated A under the Comprehensive Assessment System for Built Environment Efficiency (CASBEE). These environmentally-friendly facilities also include a 50 kW solar power generator for supplying their own power.
Masato Inazu, head of the Machine Tool Technical Center, enthusiastically touts the Center's merits: "The Technical Center features our company's latest equipment for enabling us to create new value that exceeds customer expectations."
The Gotemba Technical Center provides test machining and technical proposals not just for customers in Japan, but also for overseas customers, for contributing to enhanced manufacturing value for all Toshiba Machine customers.