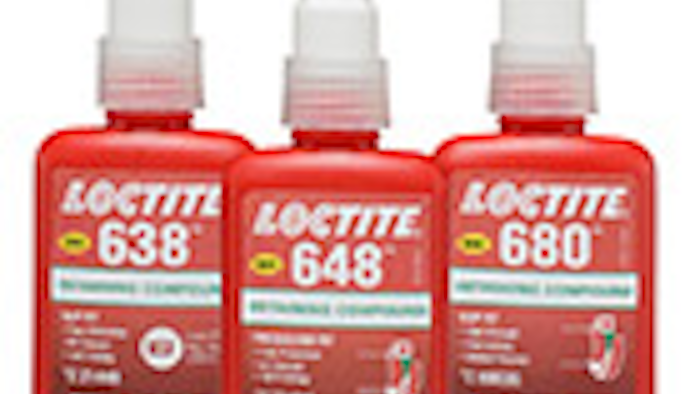 Henkel Corporation has enhanced three Loctite anaerobic retaining compounds to allow primerless performance on oily or contaminated
surfaces, even at operating temperatures as high as 180°C. Used in combination with interference fits to secure bearings, bushings, gears and cylindrical assemblies into housings or shafts, the compounds allow higher load transmission, better performance with existing designs, relaxed machining tolerances and reductions in the size, weight and overall cost of an assembly. All three improved retaining adhesives make joints stronger, distribute stress evenly, prevent corrosion and fretting and reduce or eliminate expensive machining and surface-finishing operations.
Loctite 638 is a general-purpose retaining compound recommended for press fits that will need subsequent disassembly. Designed for use on loose-fitting parts, adhesive resists temperatures to 175°C and can be used on applications with larger gaps approaching 0.25 mm. The adhesive is registered to NSF Category P1. Loctite 648 is a compound recommended for close-fitting parts continuous working temperatures to 180°C. This adhesive bonds in five minutes with full cure in 24 hours to stainless steel press and interference fits and fills gaps to 0.15 mm. Loctite 680 is a high-strength retaining adhesive for use on slip-fitted parts with gaps as large as 0.38 mm. This low-viscosity material is certified to ANSI/NSF Standard 61 for use in potable water systems.
Henkel Corporation
www.henkelna.com/industrial