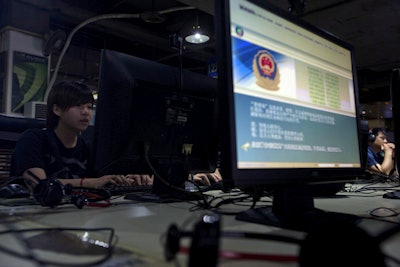 BEIJING (AP) — Responding to reports that China is blocking VPN services that let users jump the Great Firewall, an Internet official said Tuesday that "harmful information" must be managed.
Wen Ku, director of telecoms development at the Ministry of Industry and Information, declined to elaborate on what "harmful" meant and did not respond directly to allegations by tech companies and specialists over the past week that China has been blocking some virtual private network services.
"In China, internet development must follow Chinese laws and regulations. Certain harmful information should be managed according to Chinese laws," he told a news conference.
He also said that China would introduce new Internet regulatory measures "as new circumstances arise."
The Chinese government blocks thousands of websites to prevent what it deems politically sensitive information from reaching Chinese users, an effort dubbed the Great Firewall. Tech companies and specialists said last week that intensified controls had hit a wide swath of VPN services, which many foreigners in China as well as millions of Chinese depend on to connect to servers outside the country.
---
More from MBTMag.com
Post Holdings To Buy Malt-O-Meal Cereal Maker
Mattel CEO Resigns, Toy Maker Results Miss Expectations
Yogurt Owner Sentenced To 5 Years In Prison For Arson
Explore more news
here
.