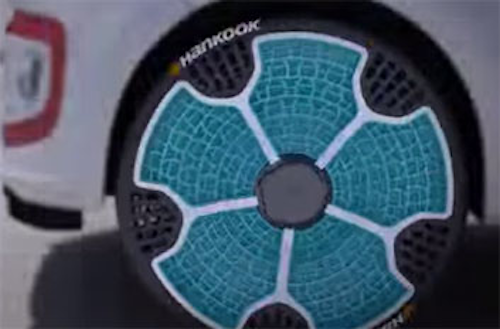 The public release of an airless vehicle tire could occur in the near future.
South Korea-based Hankook Tire recently announced that it has successfully finished ride and handling tests of its non-pneumatic (airless) Hankook iFlex tire.
Hankook has been conducting research on airless tires since 2011. In that time frame, the company has set its sights on developing a non-pneumatic tire (NPT) that possesses all of the benefits of a traditional air pressure tire, while improving high speed capabilities. The iFlex, which is made of eco-friendly materials, is the fifth NPT concept that Hankook has developed.
In addition to the goals Hankook has set for an NPT, the construction of the iFlex has revolved around an innovative type of uni-material created to make the tire as eco-friendly as possible. The tire manufacturing process has become more energy efficient and product recycling has become simpler due to the material used during the development. Hankook also altered its tire construction techniques during the development of the iFlex, resulting in manufacturing process that has four steps instead of eight.
Once developed, Hankook put the tire through a bevy of tests designed to discover its limits. The iFlex was evaluated on its durability, stability, hardness, slalom (ability to zigzag), and speed.
The tires were successfully driven at 80 miles per hour (130 km/h) during the speed test.
Hankook concluded from the test that the iFlex prototype could match the performance of traditional tires.