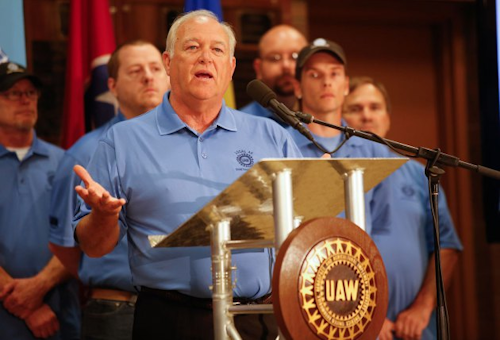 DETROIT (AP) — United Auto Workers President Dennis Williams says he's not buying the Detroit Three automakers' argument against wage increases for longtime workers.
Williams told reporters Monday that keeping Detroit competitive with foreign automakers can't always be done on the backs of workers. He says there are quality, warranty and other processes that can be changed to cut costs.
The union leader will have to balance keeping competitiveness against getting pay raises when contract talks formally open in the summer with Fiat Chrysler, General Motors and Ford.
Longtime UAW workers have not had an hourly pay raise since 2007, although they have received hefty annual profit sharing checks. Entry-level workers who are paid about half of what veterans make got a pay raise in the 2011 contract talks.
---
More from MBTMag.com
Cheaper Food And Gas Lower U.S. Producer Prices
Ford Revamps Sync Infotainment System
Fiat Chrysler Denies Plans To Expatriate Ferrari
Explore more news
here
.