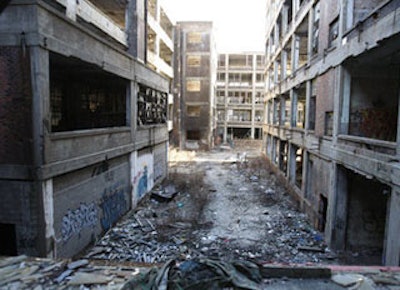 DETROIT (AP) -- A former car plant that's a symbol of Detroit's industrial decline could be sold for as little as $21,000 after failing to get bids in an initial public auction.
The Detroit News and Detroit Free Press report the property is to be listed as a package of 42 parcels during the second round of the Wayne County treasurer's tax foreclosure auction, which starts Oct. 8.
The online auction runs until Oct. 25. Bidding started at $1 million for the first round of the auction, which ended Thursday.
The property went to auction after Evanston, Ill.-based developer Bill Hults earlier missed a deadline to come up money to acquire the property. He's leading a group that wants to convert the Packard plant into a commercial, housing and entertainment complex.
---
More from MBTMag.com
U.S.-Japan Deal Could Lead To More Organic Options
UL Study Reveals Critical Gaps Between Manufacturer And Consumers
Japan Car Parts Makers In Price-Fixing Plea
Explore more news
here
.