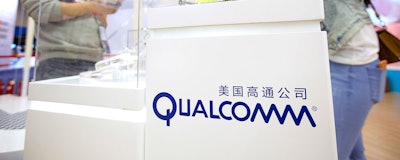 NEW YORK (AP) — The decision by President Donald Trump to scuttle a hostile takeover by Singapore's Broadcom of the U.S. chipmaker Qualcomm caught some on Wall Street off guard.
Shares of Qualcomm slid more than 4 percent in early trading Tuesday.
Industry analysts speculate that Qualcomm's advanced work on 5G technology, which is expected to provide speeds needed to fuel the "internet of things," was the reason.
Trump said late Monday that a takeover of Qualcomm would imperil national security, ending Broadcom's $117 billion buyout bid.
Chris Caso, an industry analyst with Raymond James, pointed out how brief the review of the deal was by U.S. Committee on Foreign Investment, and how rare it is for a U.S. president to intervene.
Kevin Cassidy, an industry analyst with Stifel Nicolaus, said Qualcomm is well ahead of foreign and domestic competitors in 5G technology, giving that as a leading reason for the executive action from the White House.
GOP Sen. Rob Portman of Ohio said he wasn't surprised Trump's actions.
"Given the Chinese influence at least, and ownership, to a certain extent, of Broadcom, and their interest in getting some of this 5G technology, that it is a national security issue, so I think that it's appropriate that CFIUS look at it," Portman told CNBC in an early interview Tuesday.
Although its name isn't widely known outside the technology industry, Qualcomm is one of the world's leading makers of the processors that power many smartphones and other mobile devices. Qualcomm also owns patents on key pieces of mobile technology that Apple and other manufacturers use in their products.
"We've got to wake up and realize that China, Russia and other competitors are out there constantly trying to get technology," Portman said.
Qualcomm is fending off allegations in complaints filed by Apple and government regulators around the world that it has abused the power of its mobile patents to throttle competition and charge excessive royalties for its technology.