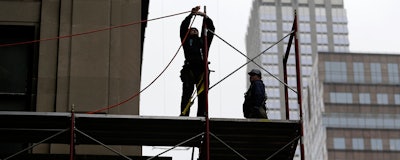 WASHINGTON (AP) — U.S. productivity showed no gain in the fourth quarter, the poorest performance since an outright decline in the first quarter of 2016. It was further evidence of the struggles the country is facing in boosting worker efficiency.
The flat reading the Labor Department reported Wednesday was a slight improvement over an initial estimate a month ago that productivity had actually fallen at a seasonally adjusted annual rate of 0.1 percent last quarter. Labor costs rose at an annual rate of 2.5 percent in the fourth quarter, a modest gain that followed a 1 percent increase in the third quarter.
For the year, productivity rose 1.2 percent, a weak performance but a slight improvement from no gain at all in 2016. Boosting productivity is seen as the country's biggest economic challenge.
The zero growth in productivity in 2016 was the poorest performance in 35 years, since productivity fell by 1 percent in 1982.
Productivity, the amount of output per hour of work, is the key factor governing rising living standards. If productivity improves, it allows companies to pay their workers more without having to boost the cost of their products, a move that can increase inflation.
Without improvements in productivity, the Trump administration will have difficulty achieving its goal of doubling the rate of economic growth to 3 percent or better. An economy's potential for growth is determined by growth in the labor force, which is determined largely by birth rates and immigration, as well as the growth in productivity.
Productivity is the amount of output per hour of work. The small revision to the fourth quarter figure reflected the fact that the government last week made a slight revision to overall output, as measured by the gross domestic product, showing the GDP grew at a 2.5 percent annual rate rather than the 2.6 percent gain initially estimated.