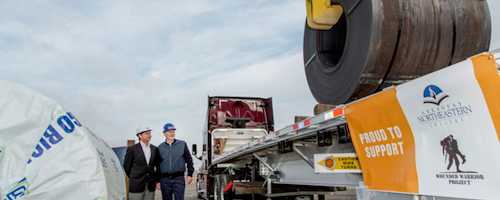 OSCEOLA, AR — Big River Steel, the world's first Flex Mill, has begun operations in its melt shop and hot mill. These are the third and fourth areas of the mill to be commissioned following the batch anneal facility and temper mill. The first hot rolled coil was purchased by Zekelman Industries and will be sent to Atlas Tube, one of the company's structural tube mills in Blytheville, AR. Zekelman Industries purchased the coil for $100,000 with the entire amount jointly contributed by Big River and Zekelman Industries to Wounded Warrior Project and Arkansas Northeastern College.
Under construction since July 2014, Big River is commissioning some of the world's newest steelmaking technology and will recycle approximately 2 million tons of scrap metal and other metallics to produce 1.6 million tons of finished steel products annually. This is the first steel mill in North America to connect an electric arc furnace (EAF) to a Ruhrstahl Heraeus degasser and will be the only EAF mill in the United States to produce hot rolled steel as thick as 1 inch and as wide as 78 inches. Based on the technology being employed and the design of the facility, the mill will produce a range of material dimensions and strength levels never before produced in an EAF mill.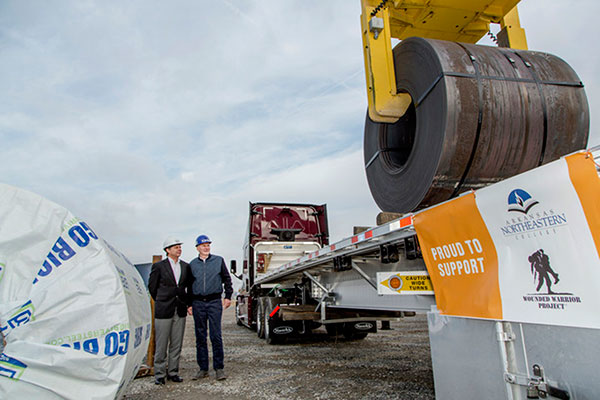 "We are thrilled to be commemorating this milestone alongside Zekelman Industries. The Northeast Arkansas community, home to both Big River and one of Zekelman's most advanced facilities, has embraced our arrival with open arms," Dave Stickler, chief executive officer of Big River Steel, said. "In terms of joining with Zekelman Industries in supporting Wounded Warrior Project and Arkansas Northeastern College, we are honored to be able to do this so early in the life of our company. Having spent over $1 million on training services provided by ANC over the past 18 months, we have an extremely strong relationship with the college and we look forward to expanding this relationship."
"Zekelman Industries has operated in Northeast Arkansas since 2007 and we have seen firsthand the quality of the workforce trained by ANC. My family and I have also had the honor of supporting the Wounded Warrior Project for several years," Barry Zekelman, chairman of Zekelman Industries, stated. "Big River's willingness to join us in making these charitable contributions is much appreciated and we join others that operate industrial facilities in Northeast Arkansas in welcoming Big River to the community."