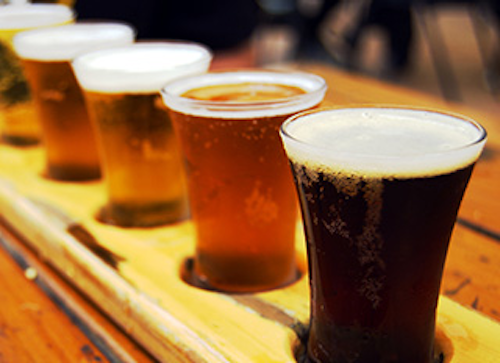 CHAMPAIGN, Ill. (AP) — Happy hour is back in Illinois — but while some bars swiftly announced drink specials that would have been illegal a week ago, not all are saying "cheers" to the new law.
And some bar owners point out that they've been able to discount drink prices in other ways for years.
Gov. Bruce Rauner signed the change into law on Wednesday, legalizing happy hour in Illinois for the first time since it was banned in 1989 over concerns about excessive drinking and drunken driving. Proponents of the shift said it would boost alcohol sales — and in the process, tax revenues.
By Thursday, some bars and restaurants had announced new specials. Frontier restaurant in Chicago, for example, said it will offer $4 sparkling wine and $5 Oskar Blues Pilsner on weekday afternoons starting next week.
Pitchers Pub and Pizzeria in Belleville could soon join them. Owner Lloyd Cueto said his sports bar hasn't been able to match competitors on the other side of the Mississippi River in Missouri, where happy hour has been legal.
"So often people will say, 'I went to Soulard, I went to St. Louis, why can't you make those kind of deals?'" Cueto said, referring to a popular bar-stocked neighborhood near the St. Louis Cardinals' Busch Stadium.
But in Champaign, Tobin Herges isn't ready to start slashing drink prices at his Tumble Inn.
"I've always thought that running specials and stuff was kind of insulting to the customers," the owner of what he calls a townie bar near the University of Illinois campus said. "Why can't you do it all the time?"
He also said he wasn't certain if offering the newly legal specials might create new liabilities for him.
The law now allows drink specials up to four hours each day for a total of 15 hours a week, as long as the discounts end by 10 p.m. And restaurants will be able to offer meals that include alcoholic pairings for one price.
Volume discounts such as two drinks for the price of one and specials allowing unlimited drinks for a fixed price remain illegal.
So far there doesn't appear to be strong opposition to the change.
Mothers Against Drunk Driving is taking a neutral stance, state Executive Director Sam Canzoneri said.
Another advocacy group, the Alliance Against Intoxicated Motorists, said it is taking a detailed look at the law. While it likes only a little of what it sees, Executive Director Rita Kreslin said the organization hasn't mounted any formal opposition.
The group likes the provision that will require servers to be trained to spot someone who has had too much to drink, she said. But she isn't sure drunken driving and binge drinking are less of a worry than in 1989.
"What studies have been done to show that this is not going to be a risk to traffic safety and public safety?" she asked.
Statistics from the Secretary of State's office indicate that arrests for driving under the influence, at least, have declined. In 1989, more than 49,000 DUI arrests were made in Illinois. By 2011 the figure was below 39,000. In 2013, the most recent year available, there were fewer than 35,000.
Even under the old law, bar owners were able to offer discounts provided they weren't limited to particular hours.
At Murphy's Pub on Green Street in the heart of the University of Illinois campus, $5.50 pitchers of Hamm's and Pabst Blue Ribbon have been part of the Wednesday specials all summer, along with $2.50 shots of Jose Cuervo tequila on Thursdays and Fridays.
General manager Ryan Block isn't sure the change will help his bar, but "we're going to find out," he said.
"I was just getting ready to go online here and see what we can take advantage of, and kind of strategically plan our specials around that," he said. "We're going to play with it and see how it goes."