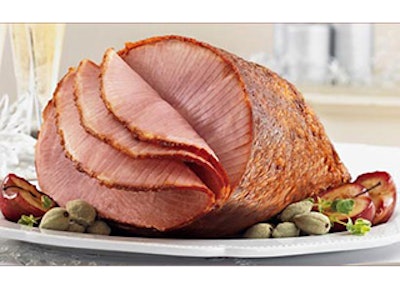 It may only be September, but HoneyBaked is already gearing up for the holiday season. The company is preparing for the annual rush on its signature Honey Baked Hams, Turkey Breasts, and full assortment of premium products by providing part-time jobs for more than 10,000 people, a 600-percent total increase in the HoneyBaked workforce across their 400 stores nationwide.
"More than 2.5 million customers invite HoneyBaked to their important holiday gatherings during the holiday season company-wide, from Thanksgiving through the start of the new year," said President and COO Maggie DeCan. "We're happy to employ 10,000 people during the holidays when many need an extra income. These seasonal employees are instrumental in HoneyBaked's ability to deliver our great products to our millions of cherished customers during our busiest season."
For some, these seasonal jobs at HoneyBaked can grow into more permanent opportunities with the company. There are many stories about how some of the company's greatest leaders were once part-time employees during the holiday season. Mitsi Portwood, the Marketing Specialist at HoneyBaked's corporate office in Atlanta, is no stranger to this concept. Portwood started as a seasonal associate at a local HoneyBaked store while completing her degree. She then interned in the Marketing department during her last semester and was promoted to Marketing Specialist upon graduation.
"Mitsi Portwood is just one great example of the many success stories that have come out of seasonal employment here at HoneyBaked," said DeCan. "We're looking for individuals who can deliver the HoneyBaked core values. Those are the types of people who go on to do great things for our company."
Interested applicants can apply online at www.honeybakedcareers.com or in person at any HoneyBaked store.