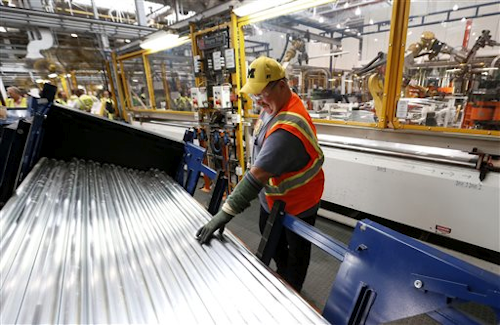 WASHINGTON (AP) — The Institute for Supply Management reports on a survey about U.S. manufacturing production, orders and other activity in January. The ISM, a trade group of purchasing managers, will release its manufacturing index at 10 a.m. Eastern time Monday.
ANOTHER DROP: Economists forecast that the index fell last month for the third straight time, dropping to 54.8 from 55.1 in December, according to a survey by FactSet. Any reading above 50 signals growth.
A reading at that level would suggest American manufacturers are expanding at a steady pace. But growth has slowed since the index reached a three-year high of 58.1 in August.
MANUFACTURING SLOWDOWN: Sever
al trends have weighed on U.S. factories in recent months. Overseas economies are weak. And the dollar has risen steadily in value as the U.S. economy's strength has attracted international investors. That makes U.S. goods more expensive overseas. Both trends have weighed on American firms' export sales.
The stronger dollar also lowers U.S. multinational corporations' overseas profits. Last week, Procter & Gamble, DuPont and Caterpillar all said their earnings took a hit from the strong dollar.
The overseas turmoil dampened the U.S. economy in the final three months of last year. Exports rose at the slowest pace since the beginning of the year. Meanwhile, imports, which become cheaper when the dollar rises, jumped. The wider trade gap shaved growth by a percentage point.
Still, the economy expanded at a decent 2.6 percent pace, mostly because of strong U.S. consumer spending.
Another drag has come from U.S. businesses, which have cut back sharply on their investments in industrial machinery and other equipment. Oil drilling firms are spending less on developing new fields as the price of oil has plummeted 60 percent since last June. Business investment in equipment dropped 1.9 percent in the fourth quarter, the biggest drop since the summer of 2009, the government said Friday.
Lower gas prices have left Americans with much more money to spend on other goods and services. Consumer spending jumped by the most in nine years in last year's fourth quarter.
That is keeping many factories busy. Auto sales rose to the highest level in eight years in 2014. Analysts expect sales will top 17 million this year for the first time in a decade.
Factory output rose in December for the fourth straight month, the Federal Reserve said, as manufacturers cranked out more consumer goods such as furniture, computers and clothing.