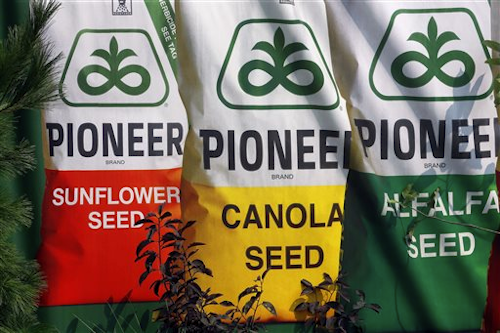 DOVER, Del. (AP) — DuPont Co. said weak agricultural sales, a strong dollar and continued weakness in emerging markets contributed to a sharp decrease in third-quarter earnings.
The Wilmington, Delaware, science and chemicals company reported net income of $235 million, or 26 cents per share, compared with $433 million, or 47 cents per share, in the corresponding period last year.
Net sales totaled about $4.9 billion, down from $5.9 billion in last year's third quarter and less than the Wall Street estimate of $5.22 billion.
Operating earnings, adjusted to exclude one-time charges and account for discontinued operations and nonrecurring gains, totaled 13 cents per share, down from 39 cents per share in last year's third quarter but beating the 11 cents Wall Street analysts were expecting, according to Zacks Investment Research.
DuPont, which announced the resignation of CEO Ellen Kullman earlier this month, stuck by its lowered full-year earnings projections of $2.75 per share. The company earlier had projected earns of $3.10 per share.
The strong dollar cut 72 cents per share from earnings for the year, the company said.
The company's shares have fallen about 18 percent this year, while the Standard & Poor's 500 index has risen almost 1 percent.
"Amid the current challenging macro environment, our priority is to aggressively manage what is within our control, including taking a fresh look at DuPont's cost structure and capital allocation strategy to identify ways to further improve shareholder return," said interim Chairman and CEO Ed Breen.
MeDuPont continues to struggle, with third-quarter volume declines in all regions and in five of its six business units, led by a 17 percent volume decline and $210 million operating loss for it agricultural unite. The company attributed a 7 percent volume gain in its industrial biosciences unit primarily to increased demand in food and home and personal care markets.
The DuPont Co. said net income for the first nine months of the year totaled $2.2 billion, or $2.43 per share, down from $2.9 billion, or $3.17 per share, last year. Consolidated net sales totaled $19.8 billion, down from $22.5 billion.