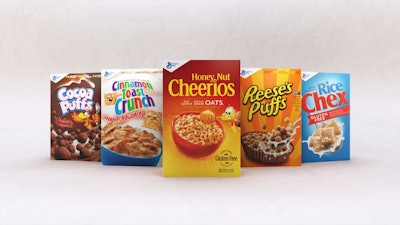 Three advocacy groups on Thursday announced a lawsuit against General Mills over traces of a common pesticide in granola bars labeled "100% natural."

The complaint, filed in D.C. Superior Court, argued that the company's Nature Valley brand used "deceptive and misleading" marketing practices by failing to disclose the presence of glyphosate, the key ingredient in Roundup and numerous other pesticides.

Attorneys conceded that the levels of the chemical are far below federal guidelines, but argued that the "natural" labeling should be removed from the market. The Twin Cities-based food giant did not immediately respond to the filing.

"Glyphosate cannot be considered 'natural' because it is a toxic, synthetic herbicide," said Jay Feldman, executive director of Beyond Pesticides, which filed the lawsuit along with the Organic Consumers Association and Moms Across America.

Lawsuits over foods labeled as "natural" are nothing new — Nature Valley was the subject of a federal lawsuit over its ingredients in 2012 — but concerns over glyphosate are on the rise after an arm of the World Health Organization classified it as a possible carcinogen last year.

A study earlier this year identified trace amounts of the pesticide in many breakfast foods, and a class-action lawsuit filed in April accused Quaker Oats of deceptive advertising due to glyphosate in "100% natural" oats.

"Food grown with dangerous pesticides like glyphosate isn't natural. Consumers understand this. That's why sales of natural products are booming," said the Organic Consumers Association's Alexis Baden-Mayer. "Unfortunately, companies' misleading claims trick consumers into buying just what they're trying to avoid. This has to be stopped."

Monsanto, the maker of Roundup, contends that glyphosate is safe and that the IARC ruling last year was based on "erroneous, non-transparent and based on selectively interpreted data."