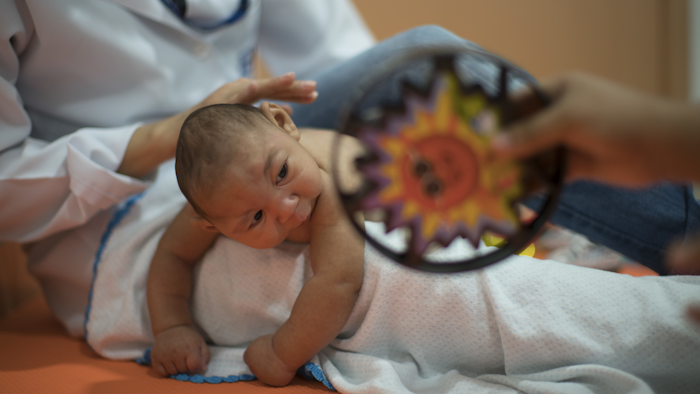 After months of debate and speculation, the Centers For Disease Control and Prevention have confirmed what most believed: the Zika virus during pregnancy can lead to microcephaly, a birth defect that causes infants to be born with abnormally small heads.
"There isn't any doubt that Zika causes microcephaly," Dr. Tom Frieden, director of the U.S. Centers for Disease Control and Prevention (CDC), said Wednesday.
Since the outbreak of Zika began in Central and South America months ago, many in the scientific community had generally agreed that the virus was likely causing microcephaly. But without concrete evidence, the door was open to other theories. At one point, a group of anti-pesticide activists circulated a "report" saying that microcephaly was actually being triggered by pyriproxyfen, a larvicide that was injected into the water supplies in Brazil during a government-led effort to keep mosquito larvae from developing in drinking water tanks.
Now that the CDC has ruled that Zika is the definitive cause, it will bolster the Obama administration's case that more funds need to be directed to stopping the spread of the virus, which is already affecting Puerto Rico and is expected to hit the U.S. once the weather warms and mosquitos return.
Just days ago Congress approved a bill that to help encourage the speedy development of drugs to treat Zika. The measure was meant to encourage manufacturers to study and develop pharmaceuticals to combat Zika by expediting the regulatory review of a more profitable drug in the company's research pipeline. Companies that are working on drugs related to Zika include GlaxoSmithKline, Inovio Pharmaceuticals, Takeda Pharmaceutical and Sanofi SA.
But the administration said this wouldn't be enough and has also asked Congress to allocate $1.9 billion in emergency funds to bolster the efforts against Zika. Many Congressional Republicans have rejected the idea of a one-time allocation of that amount and have instead called for the regular appropriations process. But others, such as former Republican presidential hopeful Marco Rubio, have said they support Obama's call for additional funds.
Many analysts say that with this confirmation from the CDC it will be much harder for members of Congress to reject a more aggressive approach in fighting Zika.