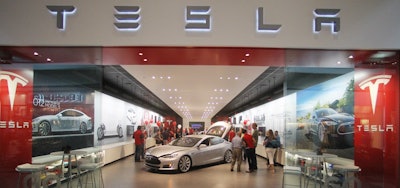 Tesla this week announced plans to sell $1.5 billion in debt as it dramatically bolsters its vehicle production.

The Silicon Valley electric vehicle maker could begin the sale as early as Friday, The Wall Street Journal reported. The unsecured debt obligations will be offered as senior notes due in 2025.

The proceeds, the company said, would "further strengthen its balance sheet during this period of rapid scaling."
Tesla last month rolled out the first of its Model 3 sedans, the first Tesla electric vehicle aimed at the broader car market, and executives hope to make 500,000 cars per year as early as next year.

Analysts suggested that the sale would likely enjoy support on Wall Street, where investors are interested in high-yield debt and several firms already own stock in Tesla.

Some, however, expressed continued concern about the company's business model, which has yet to result in an annual profit in its 15-year history.

"Bond investors, who typically don't love companies that don't make money, will be far more forgiving when it comes to Tesla," FTI Consulting's Robbie Goffin told Reuters.