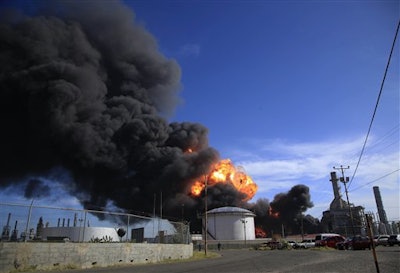 Plumes of black smoke and flames continue to rise over the Amuay refinery near Punto Fijo, Venezuela, Monday, Aug. 27, 2012. A huge explosion rocked Venezuela's biggest oil refinery, killing at least 24 people and injuring dozens, an official said. (AP Photo/Ariana Cubillos)
PUNTO FIJO, Venezuela (AP) — The death toll rose to 48 at Venezuela's biggest oil refinery, where fires were still raging on Monday nearly three days after a powerful explosion.
The higher toll was announced by Falcon state Gov. Stella Lugo in remarks to the Venezuelan radio station Union Radio. Officials have said scores of people were injured.
Residents in a neighborhood next to the refinery say they had no warning before the explosion hit at about 1 a.m. on Saturday.
"What bothers us is that there was no sign of an alarm. I would have liked for an alarm to have gone off or something," said Luis Suarez, a bank employee in the neighborhood. "Many of us woke up thinking it was an earthquake."
The blast knocked down walls, shattered windows and left streets littered with rubble.
People who live next to the refinery said they smelled strong fumes coming from the refinery starting between 7 p.m. and 8 p.m. Friday, hours before the blast, but many said they weren't worried because they had smelled such odors before.
Then, a cloud of gas ignited in an area of fuel storage tanks and exploded. Some of the tanks were still burning on Monday, billowing black smoke.
President Hugo Chavez visited the refinery on Sunday and said investigators haven't yet determined what caused the disaster.
In a televised conversation with Chavez, one state oil company officials said workers had made their rounds after 9 p.m. and hadn't noticed anything unusual. The official said that at about midnight officials detected the gas leak and "went out to the street to block traffic."
"And later something happened that set (it) off," Chavez said. "A spark somewhere."
Energy analyst Jorge Pinon said the accounts of the hours leading up the explosion raise concerns.
"The fact that the gas leak went undetected for a number of hours and that there was no evacuation alarm (or) order indicates to me that there is a lack of safety related planning and behaviors throughout the complex, and most important in nearby communities," Pinon said.
Amuay is among the world's largest refineries and is part of the Paraguana Refinery Complex, which also includes the adjacent Cardon refinery. Together, the refineries process about 900,000 barrels of crude per day and 200,000 barrels of gasoline.
___
Associated Press writer Ian James in Caracas contributed to this report.