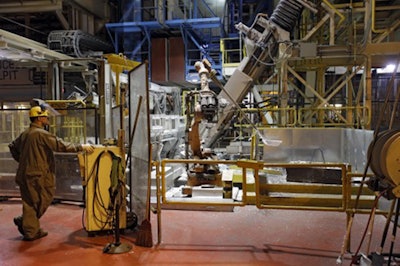 Overall Equipment Effectiveness (OEE) is a metric that has become a go-to standard across numerous industries. With its roots in automotive manufacturing and assembly, this calculated key performance indicator (KPI) has become the measurement standard for food & beverage (F&B), consumer packaged goods, processing, life sciences and other "classic" discrete manufacturing/assembly industries and sectors.
In its most basic form, OEE is a key performance indicator (KPI) used to measure performance in a given process and is calculated by combining constituent components of availability (uptime), (performance) rate, and quality/yield. OEE is a simple metric that provides a wealth of information that can be useful in directing engineering, continuous improvement, safety, quality and other efforts.
Planned strategically and implemented tactically, OEE can be a valuable key in unlocking your production potential. However, having a "singular" KPI drive all shop floor activities can lead to pitfalls if you aren't careful.
Let's look at the three most common pitfalls and how you can avoid them.
Pitfall 1: High-Level Problem Solving
It's common to evaluate plant-wide OEE calculations and then appoint cross-functional teams to achieve global improvements in the manufacturing process. This "global problem-solving" approach is a Herculean task that requires extensive time and resources. By calculating OEE associated with distinct operational lines, you can effectively prioritize problem areas and drive and measure progress at a more manageable level.
Effective OEE improvement begins with the identification of choke points: any obstacle or limitation that prevents or slows progression or movement from one part of the manufacturing process to another. A choke point can be any process in your operation that limits throughput via any means, not just speed.
Examples may include things like excess downtime, excess scrap, poor yield, unavailable equipment or unavailable human resources. Since all choke points can result in OEE deterioration, you should identify and address them one at a time to drive manageable, but steady improvement.
Pitfall 2: Analyzing Skewed Data
If data is used to prioritize the choke points that will be addressed and then to monitor the effectiveness of the measures taken to eliminate those choke points, then the use of skewed or incorrect data can easily thwart operational improvement efforts.
It's imperative to use high quality data to make decisions. Skewed, incorrect data can lead to the dangerous situation of addressing the wrong problems. If your loss accounting system is not in good working order, it's better to implement manual processes like a simple log sheet. The data doesn't have to be sophisticated, but it does need to be correct. Good data points to the biggest sources of loss, so that you can tackle those first.
Keep data and reports simple when communicating activities and results. This helps get all stakeholders on the same page and driving toward the same goal.
Pitfall 3: Failure To Track Progress And Results
Often, there is a gap between initial analysis and the final delivery of OEE improvements. Isolated improvements can lose their value if left unmeasured and progress after initial analysis can stall due to lack of clear direction or accountability. Results planning is critical if you want to see continuous OEE improvements.
Done properly, results planning clearly lays out the roadmap to project delivery and creates a simple vehicle so that all project team members, participants and others in the organization can understand which initiatives must be accomplished and in which order or timeframe.
The key elements of a robust results plan include:
• AVS/analysis: interviews, data, observations, studies
• Risk assessment/prioritization
• Quick wins (choke points/performance focused)
• Preliminary financials
• Focused glide paths/blueprint
Interviews, data, observations and studies all lend insight into general themes and challenges related to choke points and are validated by those closest to the shop floor. Once validated, you can use themes to create hypotheses that can be investigated further. A risk assessment balances improvement plans by laying out potential negative effects from outside influences or even those controlled by your organization internally. Communicate and revisit risks on an ongoing basis to ensure validity and provide a "sanity check" of guiding assumptions.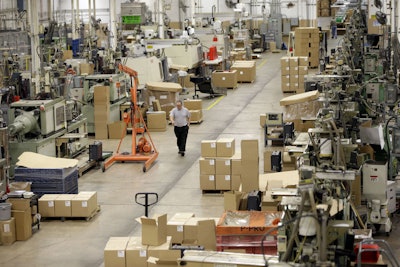 Include focused choke points and performance-driven quick wins in the results plan. These are results that can be generated quickly and easily and provide a mechanism to continually engage the shop floor and remedy those nagging issues that individually may not seem like much, but cumulatively add up to significant OEE losses.
You should also include preliminary financial data in the results plan, as it helps drive understanding of where the initial performance baseline exists, and the actual mathematical savings that could be expected from a focused OEE improvement project.
The final piece of the results plan is a detailed glide path or blueprint. This blueprint outlines the overall initiatives that must be completed and specifies a timeline for these activities. This allows the team to have short-, medium-, and long-term visibility into the deliverables and can also be used to show progress over time. Develop the blueprint with the input of the team that will actually be making the changes and doing the work for maximum effectiveness.
Make sure that the draft version of the results plan be reviewed and mutually approved by all stakeholders. In addition to providing direction and visibility on "how" the team will achieve results, the mutual approval step of results planning ensures the alignment of stakeholders: from those on the plant floor to external third parties and executives.
Conclusion
Used strategically to steer tactical improvement initiatives, OEE can be an incredibly useful tool in gaining improvements in performance and sustaining those gains in your operation. With an integrated, team-based approach to improving maintenance processes as a way to impact OEE, and driving rapid results at the shop floor level, you can realize OEE improvements that are sustainable for the long-term.
About the Authors
Lotfi Maroizy is a Director with Myrtle Consulting Group where he helps clients drive sustainable results through behavioral change within their organizations. Steve Wamsley serves as Transformation Manager at Myrtle Consulting Group where he focuses on industrial engineering techniques and Lean Six Sigma tools for overall operational improvement of production and business processes.