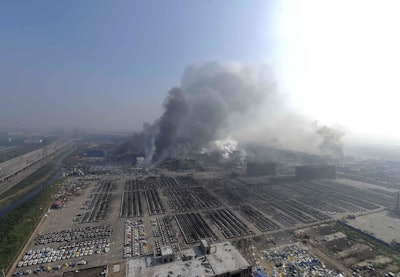 Too often, better regulation of businesses and industries only occurs following potentially preventable tragedies, with Highly Hazardous Chemicals (HHC) being a prime example. Few knew of Bhopal, India until the deadly methyl isocyanate gas escaped from a chemical plant and spread airborne, killing thousands. Even with today's safeguards, five chemical incidents each day are reported.
Prompted primarily by Bhopal, more than two decades ago the Occupational Health & Safety Administration (OSHA) issued unprecedented regulations for Process Safety Management (PSM) of HHCs. Although this standard focuses only on high-risk releases, it cuts across the business spectrum because chemicals are so widely used.
Spelling Out PSM
As could be expected, significant OSHA regulations (such as PSM) are lengthy and complex, but an overview is a good jump-start for compliance. For openers, PSM-compliant process refers to any activity involving using, storing, manufacturing, handling or moving such chemicals at the site. At "covered" companies this specifically includes ones dealing with 130 plus toxic and reactive chemicals, as well as flammable liquids and gases in quantities of at least 10,000 pounds.
The importance of HHC incident prevention by OSHA is underscored by the Environmental Protection Agency (EPA) having instituted very similar Risk Management Program (RMP) regulations. PSM generally centers on a Process Hazard Analysis (PHA), essentially a review of what could go wrong and safeguards to prevent incidents, beginning with identifying and evaluating chemicals presenting the greatest risk first.
Leaving no implication that PSM is a seemingly endless document with nothing on which to "get a handle," OSHA packaged the detailed regulation to include a brief takeaway called 14 Elements of PSM:
Compliance audits must be conducted, at minimum, every three years.
Management of Change (MOC) on technology, process chemicals, equipment and facilities.
Hot work permit must be issued for relevant processes or near a covered process and primarily must ensure that OSHA fire prevention and protection requirements have been met.
Pre-Startup Safety Review (PSSR) must be conducted on equipment that is newly installed or modified, with the review including a PHA and employee training on process operation.
Contractors and contract employees must be provided sufficient information and properly trained.
Employee participation is vital and must include their being consulted, as well as being informed specifically about hazards and safe practices.
Process Hazard Analysis (PHA), as noted, outlines potential problems and how to build in safeguards.
Process safety information puts forth equipment and process issues for management to know how to be compliant and must include hazards of the chemicals, on the process technology and detailed specifics about the process equipment.
Operating procedures must be developed for chemical processes – and well communicated -- to unequivocally include ones for each operating phase, operating limitations, along with safety and health considerations.
Training and educating of both employees and contractors on emergency response procedures in a comprehensive manner. Not a "one & done" process, Refresher Training must be conducted every three years (or more frequently if necessary).
Mechanical integrity on critical process related equipment must be assured through the establishment of appropriate maintenance systems.
Every incident must be investigated whether it actually resulted in a major incident or even if it could have a bad outcome.
Emergency planning response training and education for employees and contractors is mandated on a comprehensive basis.
Trade secrets must be protected while providing all necessary information in PSM compliance.
OSHA's intent is that PSM compliance will not only prevent large-scale disasters as with Bhopal but smaller HHC incidents, too. The latter includes Pasadena, Texas, which killed 23 in the 1980s and 1990s explosions which killed 17 in Channelview, Texas, and in Louisiana which killed eight and injured 140.
Real Enforcement & Hefty Fines
Despite companies not accustomed to OSHA actually helping them, the agency willingly assists with how to maintain minimum inventories while reducing on-site HHC levels below threshold quantities. However, OSHA is very focused on scrutiny and during a spot-check basis might ask up to 600 audit questions about a company's compliance with the materials their personnel handle. Some questions can require multiple answers, even if inquiring about a single regulatory component.
Another way in which OSHA "helps" companies is by not demanding outsize spending to become compliant; maximum 3 percent of gross revenue for compliance spending is acceptable to OSHA. Many organizations find this not excessive but others consider any compliance spending as too much. Whether PSM compliance is achieved through appropriate spending or not, the "prize" is that companies avoid fines of up to ½-million dollars for a company and up to ¼-million dollars for individual management.
Beyond the fines, companies may also be liable on both a civil and criminal basis if anyone is injured by chemical releases. That applies whether injured parties are employees, contractors or the general public. Worst case scenario is that a company could be ordered shut down which, of course, drops employment and revenue to zero.
Maintaining An Edge On Compliance
In addition to OSHA assistance and spending appropriately, companies typically find it quite worthwhile to name an internal PSM leader, outsource the complex responsibility or have an experienced PSM consultant take charge on an interim basis. Subsequently, the consultant can transition to permanent or the company can opt to fill the slot as a staff position. The key is to avoid the trap of filling the position with a generalist and instead preferably an engineer with a minimum five years of experience.
On a similar track with effective planning and implementation, a cost-effective solution functioning as a common-sense way to meet OSHA's expectation should be developed. It should focus on detailed planning, achieving efficiencies, regular inspections and Management of Change (MOC) as well as taking a Competency-Based Approach, all within a reasonable budget.
With management taking the right PSM compliance steps, both the "covered" companies and their communities are safer today and tomorrow.
About The Author: Adam Jackson is VP-Engineering for ACS Engineering.