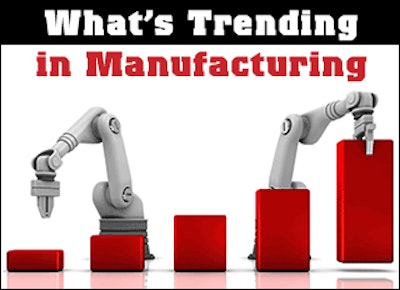 Here's a deeper look into the top trending stories in manufacturing today based on reader feedback: Goodyear bossess held by employees; future car technologies; and improving your online presence. Below these stories, check out links to other related news and features at Manufacturing Business Technology.
---
Staff Seize Bosses At French Goodyear Site
PARIS (AP) — An official with Goodyear says workers at a restive plant in northern France have detained two managers in a conference room at the tire factory.
The factory's union says the director and human resources chief were blocked from leaving after an especially difficult meeting Monday with staff; a Goodyear representative, speaking on condition of anonymity because of the tense situation, says the two managers were being held against their will. Continue reading...
Hopefully this isn't a new trend in manufacturing as this is the second high-profile boss-napping to happen in the last year. As you may recall, back in June 2013, an U.S.-based executive was held by his Chinese factory workers for unpaid wages they say were owed to them. You can read the full story here. 
---
Automotive News
There were several announcements from automakers recently talking about both future ambitions and upcoming releases. Here's the top 3:
Ford To Unveil Solar Hybrid Concept Car
LAS VEGAS (AP) — Ford plans to unveil at this month's International CES gadget show a solar-powered concept car that offers the same performance as a plug-in hybrid but without the need for a plug.
The C-MAX Solar Energi Concept car uses a gasoline engine combined with a gizmo that acts like a magnifying glass to concentrate the sun's rays on the vehicle's roof-mounted solar panels. The automaker says the vehicle's estimated combined city-highway mileage is 100 miles (160 kilometers) per gallon. Continue reading...
---
Toyota Ups Orders For Hydrogen-Powered Car In U.S.
LAS VEGAS (AP) — Toyota said Monday that it expects to sell more hydrogen-powered electric cars in the U.S. than previously planned.
The car, which Toyota calls FCV for now, uses hydrogen as fuel for a battery and emits only water vapor as exhaust. Toyota said the car will go on sale in the U.S. in 2015. Rival automakers Hyundai and Honda have also said they'd start selling cars with that technology in the U.S. that year. Continue reading...
---
A Driverless Audi Hits The Highway
CNN's Samuel Burke takes a ride in Audi's self-driving A7 during this year's Consumer Electronics Show in Las Vegas.
---
Face To Face: Improving Your Online Presence
With a new year beginning, manufacturers are looking for tips and tricks to help their business move forward.
Several of you out there have already read The No-Nonsense Guide to Generating Qualified Leads Online on mbtmag.com, so we decided to invite Andrew Dymski, co-founder of GuavaBox, an inbound marketing agency, to discuss creating best practices for the new year in this Face To Face. 
---
If you'd like to weigh-in about What's Trending In Manufacturing, leave a comment below or Email me at Jon.Minnick@advantagemedia.com.