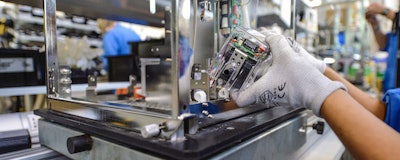 Building a reputation for world-class quality and compliance is essential for medical device manufacturers to stay in business and grow. However, it's a steep challenge.
Compliance tracking and reporting for the U.S. Food & Drug Administration (FDA), Code of Federal Regulations (CFR), and International Standards Organization (ISO) 9001 standards often require companies to use several different systems. Meanwhile, manufacturers rely more on their supply chains than ever before to meet stringent product quality and compliance standards. Supplier quality management and compliance in medical device manufacturing is a prerequisite for surviving and thriving.  
The highest performing medical device manufacturers rely on key metrics obtained from their systems to define individualized roadmaps for achieving their enterprise-wide compliance and quality goals. This article examines five core metrics for ensuring that quality management and compliance systems stay synchronized with supply chain, production, fulfillment, and service systems. It also reviews related practices on:
Aggregating key performance indicators (KPIs) for greater insights.
Applying insights to shop-floor decisions that drive top-floor results.
Using overall equipment effectiveness (OEE) to track the utilization and performance.
Capturing KPIs
KPIs offer a strategic view into the factors that contribute the most and least to a medical device manufacturer's performance across the core dimensions of the business. Product quality and compliance levels achieved today predict what a given manufacturer's business will be like tomorrow. KPIs provide the needed insights to orchestrate suppliers, production, quality and compliance to excel on each customer order. Real-time dashboards accessible on mobile devices including smartphones and tablets provide the most valuable KPIs to keep manufacturing operations running smoothly.
Making Better Decisions From the Shop Floor To The Top Floor
Giving senior executives the data and manufacturing intelligence they need to make more informed decisions starts on the shop floor. Metrics and KPIs captured at the machine level, aggregated into metrics and KPIs, and displayed on dashboards guide manufacturing managers to make trade-offs and collaborate with senior management to reach operations-based and financial goals.  
When production management, product engineering and senior management are all using the same KPIs, symptoms of potential major problems are found faster and acted on. This close collaboration from the shop floor to the top floor enables greater insights into key areas including yield rates, quality levels, scrap rates, production effiency and cost of quality. Production delays are averted, and product quality stabilizes with collaboration based on common KPIs.
Metrics and KPIs are also indispensable in medical device manufacturing as they enable production centers to attain new levels of scale, speed and accuracy. One of the most valuable benefits of standardizing on a common set of KPIs are the insights gained from trending in each area of production. For medical device manufactuers with multiple production centers, the KPIs mentioned in this article provide a baseline for comparing relative production efficiency and quality levels by location. 
Calculating Performance
OEE is important in evaluating production machines and other assets to ensure quality and on-time delivery, based on a calculation of three strategic operational process metrics: Availability x Performance x Quality. OEE values can quickly be compared to communicate an overall plant utilization rate and then split into production areas, production lines, and individual metrics. OEE data analyzed across different production areas brings new insights and correlations.
Comparing actual OEE performance to plans brings additional insights. Specific machines and production assets often have a consistently higher OEE performance rating for one specific type of product versus another. Knowing this helps the planning department better optimize scheduling to maximize resources and results. This new knowledge can be used by quality and process engineers, and research and development (R&D) professionals to determine what is driving OEE performance so the results can be replicated plant-wide.
Five Metrics for Quality Management
Operational excellence requires manufacturers to balance quality, asset performance, operations, and environmental health and safety (EHS) management. Together OEE analysis and data intelligence help medical device manufacturers to address the following five key metrics for quality management.
Corrective action: Automated corrective and preventive action (CAPA) management streamlines traditionally manual, paper-based processes, such as approvals and escalation. Quality management system (QMS) software helps to identify root causes faster and communicate them to the organization. This is critical for realizing continuous improvements in processes and optimizing OEE.
Complaints: Metrics to monitor include the number of complaints open, the average time they spend open, and the number of overdue complaints. This data needs to be shared in real-time to improve product quality.
Audit findings: Many leading indicators can be developed from external and internal audits. These include on-time completion rates for scheduled audits, number of major noncompliances, percentage of high-risk noncompliance instances, recurring problems, and time to closure for corrective action requests.
Medical device reporting (MDR): Automated MDR reporting and tracking product quality are essential for complying with 21 CFR Part 11. Typical issues tracked are the percentage of MDRs being submitted to the FDA on time versus late and the total number of MDRs. 
Nonconformance: Metrics include the number and percentage of nonconformance instances closed within 60 days and patterns in recurring nonconformance instances by type. QMS software can be used to automatically detect and communicate all out-of-specification conditions, providing real-time visibility into quality levels and compliance. A common metric for tracking this aspect of quality is nonconformance/correction action (NC/CA). Auditors check NC/CA levels and closed case rates during quality audits for FDA compliance.
OEE can explain why one or more of the five metrics are out of compliance, since the variables are all closely interrelated. Analyzing why there are OEE variations in performance is invaluable in determining how quality and compliance can be improved to turn product quality into a core strength of any medical device manufacturer.
Anthony Parise is a medical device product strategist at EtQ and Louis Columbus is a principal at IQMS.