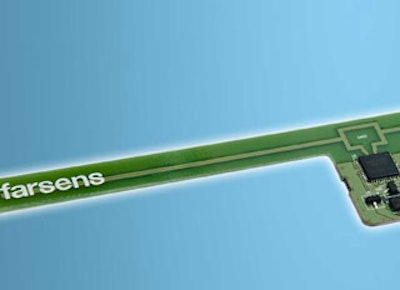 The Fenix2 from Farsens S.L., San Sebastián, Spain, is a battery free RFID sensor tag. These tags are compatible with commercial EPC C1G2 readers and communicate a unique ID and the associated temperature data without the need of battery supply on the sensor tags. The Fenix2 tags can communicate to around 1.5 meters (5 feet) and, as they transmit through materials such as plastics or concrete, they can be embedded in hardly accessible locations. These battery free sensor tags will operate in a range of -30°C to +85°C (-22°F to +185°F). The Fenix2 is available in different antenna design and sizes.
The fact that the sensor is full passive allows for a wide range of opportunities. It makes the battery free temperature sensor ideal for hardly accessible or restricted areas and those where the use of batteries is not recommended. The Fenix2 will never require a battery change, saving the costs associated to maintenance.
The typical applications for the Fenix2 are temperature sensitive assets and processes. Each tag has a unique ID and a temperature sensor that is uniquely associated to that ID. It makes the Fenix2 a perfect solution for applications such as cold chain monitoring or fire prevention for high value assets (i.e.: switchgears). Evaluation kits are available.
For more information, please visit www.farsens.com. 
---
About Farsens
Farsens designs and manufactures full passive RFID sensor solutions. Their proprietary UHF RFID IC allows Farsens to develop long range solutions for asset tracking – via the unique ID – and monitoring – via the attached sensor – without the need of any battery on the tag.