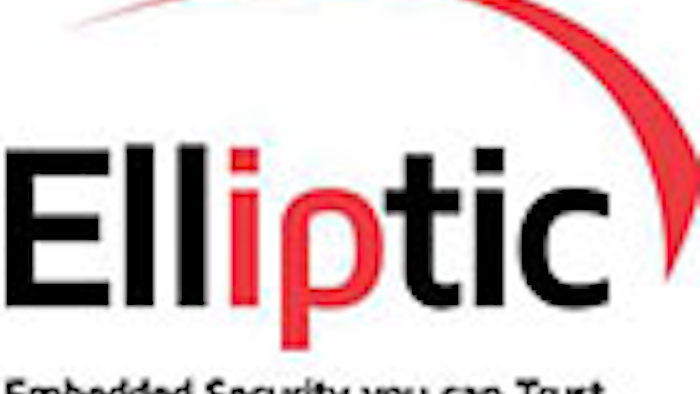 Ottawa, Canada-- Elliptic Technologies, a leading provider of embedded security solutions for the connected world, today unveiled tRoot, its future-proof secure hardware root of trust technology targeting the increasing security challenges in the Internet of Things (IoT). Elliptic's tRoot is a highly-secure foundation of trust that enables connected devices to securely and uniquely identify and authenticate themselves to create secure channels for remote device management and service deployment for further revenue opportunities.
The significance of the IoT is immeasurable as millions of everyday devices or 'things' connect to the internet and identify, communicate and automate themselves to other devices and the cloud. The IoT promises to change the way we conduct our lives creating boundless opportunities, but with these opportunities come enormous threats.  Devices and machines with sensors, actuators and other data sources transfer information into aggregation points and gateways that can funnel through limitless paths with varied levels of complexity. Addressing security concerns in this challenging environment with a robust and flexible solution is essential for widespread IoT service deployments.
Elliptic's tRoot has a unique architecture with the ability to effectively adjust to future security requirements and standards, and enable personalization of features, services and environments to create business growth and monetization in the exploding IoT market. For example, device manufacturers or operators can enable tRoot's additional security features without additional cost, making it easier to confront complex and ever-changing IoT threats – ranging from theft and tampering to physical threats like side-channel attacks and malware. With a robust and scalable hardware root of trust that includes secure key provisioning and management; firmware integrity assurance; secure updates, renewability, in-the-field provisioning, tRoot can enable cloud-based services that extends into multiple markets.
"The Internet of Things amplifies the number of connected sensors, modules and network nodes, and subsequently the number of points of vulnerability.  This vulnerability represents a major challenge that device manufacturers, network operators, and the entire wireless industry must address," said John Byrne, Directing Analyst, M2M & IoT, for Infonetics Research.  "Elliptic is taking a sound approach, locking down security at the hardware level to ensure connected devices are protected from hackers, malware, and any other potential vulnerability."
"IHS predicts that the number of connected devices in the IoT will reach 52.9 billion by 2020 with a strong focus on the industrial and consumer markets," said Bill Morelli, IHS Director, Internet of Things and M2M.  "As the number of IoT devices continues to increase, the need for strong device identification and authentication as part of an overall security solution is a pivotal component to the successful growth of the IoT."
"Our tRoot is a deeply embedded hardware security solution that ensures the integrity and trust of data through unique identification, yet its distinctive design is not limited to a finite feature set," said Vijay Dube, CEO of Elliptic Technologies. "We wanted to provide our customers with a highly flexible and power efficient technology that keeps risks and costs low, and builds incremental revenue for different market segments while adjusting to the growing threats and security standards of the future."
Elliptic's tRoot field-proven hardware root of trust is part of a full IoT solution portfolio that includes a combination of software and hardware solutions to address many different industries and markets such as: industrial, automotive, digital home, banking and payments, content protection, wearables and healthcare. For a complete list of IoT products and solutions, visit:  http://www.elliptictech.com/markets/internet-of-things.