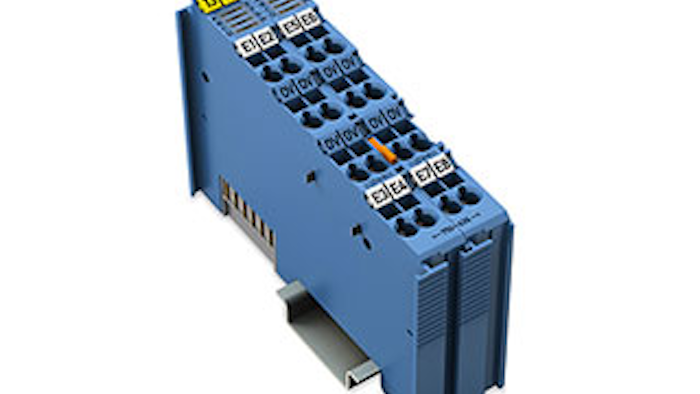 With increased domestic energy production in the U.S. (e.g., oil reserves), many new automation systems need to have the ability to operate in hazardous locations. Automation systems used in this type of environment must be able to meet the requirements of specific applications, such as hazardous location level monitoring, pressure control, valve positioning or temperature monitoring. WAGO Corporation's Ex i modules have barriers built into its I/O modules saving users not only panel space, but engineering and commissioning hours. The new 750-439 NAMUR Ex i Module offers a flexible and effective solution for intrinsically safe digital applications.
In the oil and gas industry, the digital 750-439 can be used to monitor the position of a valve used to control the flow of oil (or gas) on an oil platform. In these systems, a digital or analog output signal is used to control the valve. However, it's critical to confirm that the valve is completely open or closed, not just relying on the output signal, in these applications. Many vales have two limit switches on the valve stem that are engaged when the valve is open or closed. These switches are wired to the two inputs on the 750-439 so the control system has confirmation that the valve is in the position it should be.
The 750-439 features eight digital input channels with short circuit and wire brake diagnosis in each channel. The digital input module receives binary signals from sensors operating in hazardous environments of ATEX Zones 0/20 or 1/21, connecting to intrinsically safe NAMUR sensors, optocouplers, mechanical contacts and other actuating elements.
Power supply and diagnostics
The module supplies connected sensors with a short-circuit protected operating voltage of 8.2 V. For each channel, the module detects sensor failures, such as wire breaks or short circuits. Diagnostic messages and the status of each input channel are indicated via integrated green LEDs. A color change to red signals an open circuit or a short circuit.
Diagnostic messages can also be displayed via higher-level control system and configuration software. When monitoring mechanical contacts instead of NAMUR sensors, the wire-break or short-circuit diagnostic LED can be deactivated via process image.
Within the WAGO-I/O-SYSTEM 750, the 8-channel digital module can be installed in Zone 2 with the standard automation components, saving time and money. No additional devices (e.g., Zener barriers or isolating amps) are required and high-channel density is provided in a compact capacity, saving valuable space in the control cabinet. Any configuration of the I/O module is possible within an intrinsically safe segment when configuring the fieldbus node.
The 24 mm wide 8-channel module is ATEX and IECEX certified. Ideal for a variety of hazardous industries including oil and gas, mining, shipboard control and distilleries, the 750-439 meets the needs of intrinsically safe digital applications in its ability to operate in hazardous environments.
WAGO is the leader in spring pressure connection technology that eliminates loose wires resulting from vibration and temperature cycling, while providing highly reliable, corrosion-resistant and maintenance-free connections. For additional information, visit www.wago.us.