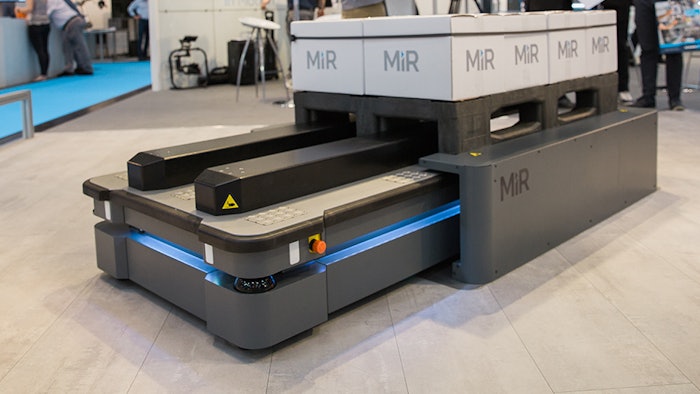 Odense, Denmark — At automatica 2018 this week, Mobile Industrial Robots (MiR) launched its latest innovation: the MiR500 autonomous mobile robot (AMR). The robot has a lifting capacity of 500 kg (1,102 lbs) and can automatically collect, transport and deliver pallets with speeds of nearly 4.5 miles per hour (mph). The MiR500 joins the MiR100 and MiR200 to form a complete fleet of flexible and easy-to-program MiR robots for both heavy and light transport that can optimize logistics throughout the entire production chain, from the warehouse to the delivery of goods.
"With the MiR500, we are extending the proven, strong technology and safety features that have made us the leading global supplier of autonomous mobile robots," said Thomas Visti, CEO of Mobile Industrial Robots. "The MiR500 was developed to meet the needs of customers who have used our other robots and now see huge potential in the automation of the internal transport of heavy items and Euro-pallets. With MiR500, we're setting new standards for how companies can use autonomous mobile robots."
Moves Pallets And Heavy Items Safely And Efficiently, With Easy Programming
The MiR500 incorporates the same innovative safety features as the rest of the MiR product line, allowing it to navigate safely around people and obstacles with all of the stringent safety standards required for TÜV certification. Using MiR advanced technology and sophisticated software, the MiR500 can recognize obstacles in a 360-degree radius, allowing the robot to navigate autonomously via the most efficient route to its destination – even in dynamic environments where people and vehicles are moving.
The user interface matches that used in the MiR100 and MiR200, which already optimize production processes in many of the world's biggest multinational companies such as Airbus, Flex, Honeywell, Hitachi and Danone. The difference is the MiR500's size, lifting capacity and areas of application.
"MiR500 is an extremely robust robot, so it's perfect in industrial environments," Visti said. "We've also incorporated the principles from the MiR100 and MiR200, where flexibility and user-friendliness are key attributes. This means that the MiR500 can be programmed without prior experience. It's also simple to develop and replace top modules such as pallet lifters, conveyor belts and robot arms, so the robot can be used for different transport purposes."
The MiR500 is the same size as a standard Euro-pallet (47.2 in × 31.5 in × 5.7 in), and MiR expects that most MiR500s will be used to transport pallets in manufacturing floors and warehouses. Specially designed MiR pallet lifters and frames ensure stable handling and transport. The high speed of the MiR500 streamlines pallet transport in all types of companies and frees up employees so they can carry out more valuable activities.
A Rapidly Developing Market
According to the International Federation of Robotics, the market for mobile robots is expected to explode in the near future.
"Industry is looking for new ways to optimize production and strengthen competitiveness, and internal transport is the last part of automation that is lacking," Visti said. "We have timed this perfectly with our collaborative mobile robots."
MiR has grown quickly since its founding in 2013, with sales rising by 500 percent from 2015 to 2016, and 300 percent from 2016 to 2017. With its second U.S. office opening in San Diego this spring, and strong growth continuing worldwide, MiR expects to increase the number of employees from 65 to about 120 in 2018.