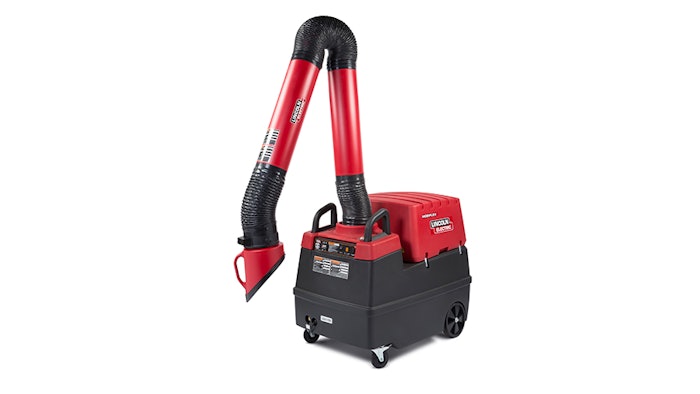 Cleveland — Lincoln Electric's new Mobiflex 400-MS is a self-cleaning welding fume extraction and filtration system designed to extend filter life and reduce maintenance for users. Ideal for smaller manufacturing facilities, this system provides light to medium duty welding fume extraction in variable locations.
The Mobiflex 400-MS fume extractor was designed with efficiency and cost savings in mind. The RotaPulse automatic filter cleaning system and large filter capacity enable users to maintain operation effectiveness and decrease downtime with less filter changes. The filter status indicator monitors the amount of particulate in the filter cartridge to alert the user when it is time for replacement.
Now made in the U.S.A. and covered by a three-year warranty, the Mobiflex 400-MS fume extractor base units have a new, reduced price amounting to nearly 21 percent in savings. The self-cleaning benefit included in the Mobiflex 400-MS base model reduces the number of filter replacements compared to a non-self-cleaning model, providing customers significant savings and the potential to recoup the price premium within the first year.
The internal spark arrestor — a safety measurement functioning as a pre-filter for larger sized particulate — prevents sparks from reaching the filter. The system provides automatic on and off operation in models having extraction arms equipped with an arc sensor and lamp kit.
The Mobiflex 400-MS base unit includes a plastic housing, two-foot flexible hose, and choice of MERV 14 or MERV 16-rated filter.  A 10-foot or 13-foot extraction arm, with or without the factory-installed arc sensor/lamp kit, or a hose/hood set is required to complete the system. 
The fume extraction arms are flexible and lightweight, while remaining rugged, reliable, and dent and scratch resistant, enabling easy transportation. Lastly, the arms come equipped with a 360-degree rotatable hood for optimal positioning.
Several One-Pak packages are available for easy ordering. Each package includes a base unit and an extraction arm.