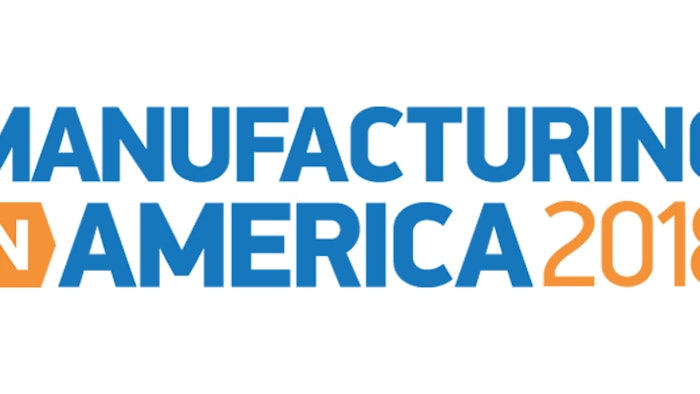 Siemens and Electro-Matic are welcoming 2,600 manufacturing executives, engineers and enthusiasts at Manufacturing in America 2018 inside Ford Field in downtown Detroit. Learn about the newest technologies, share best practices and ideas, and be a part of advancing the future of manufacturing.
What makes an industry event such as Manufacturing in America (MiA) truly successful? It's when people come together to meet and share ideas that lead to innovation. New ideas are born when industry experts are exposed to groundbreaking technologies that will impact the future of their business. People from all walks of life are inspired in different ways when exposed to new possibilities for solving business problems. That's why collaboration around the topic of U.S. manufacturing and modernization is so critical to the future growth and success of the industry. Synergies happen when the best minds in manufacturing come together — good ideas are transformed into great ideas. That's the spirit of this year's MiA event, which will be held at the iconic Ford Field in Detroit, MI on March 14 and 15.
U.S.-based manufacturing is experiencing a rebirth, and convergence of digitalization technologies is one of the key reasons for the new growth. Whether it be Artificial Intelligence (AI), robotic process automation, blockchain, digital twins, intelligent sensors and analytics, virtual reality, augmented reality, advanced connectivity or predictive maintenance, new and affordable ways to drive process improvements and automation modernization are possible at all levels of manufacturing operations. According to a recent Manufacturing Institute report, more than three million manufacturing positions will need to be staffed over the next 10 years. The vast majority of these new jobs will be impacted by digitalization.
The Siemens Investment
Why does Siemens invest in sponsoring the MiA event? The reason is two-fold. Siemens realized over 10 years ago that the future of manufacturing is digital. At that early stage, Siemens acquired small firms with digitalized solutions that supported initiatives for migrating manufacturing to a more connected environment.
Siemens views the stimulation of U.S. manufacturing growth as one of its key missions. To help fulfill that mission, the company is opening doors to a new generation of individuals who are just beginning to discover the promise of modern manufacturing. The old stereotypes of drudgery, low pay and job insecurity associated with "factory work" die hard. I remember talking to a gentleman who, 20 years ago, had a job in what he called "the mill". Constant high temperatures forced he and his colleagues to take salt pills while they worked. Drinking water all day would not help, as the salt lost through constant perspiration would have to be replaced to avoid fainting. He also had to wear rubber boots to protect his feet as overflowing tanks of brown viscous liquids would spill onto the floor. A new set of rubber boots would last only six months. By then, the rubber on the boots would be almost completely dissolved.
Such environments, for the most part, are now a relic of the past. Modern factories are clean, comfortable and safe working environments where the work is not so much manual as it is performed through human to machine interfaces (like laptop and tablet screens). Equipment operators are quickly being converted into business analysts who use technologies such as 3D simulation, augmented reality, and digital twins to execute their tasks. Many young people are discovering that digital manufacturing has emerged as the place you want to be.
Expect Community Collaboration And Innovation
The MiA event will host over 2,600 individuals including engineers, manufacturing executives, students, academic researchers, regulatory body representatives, machine OEMs and technology business partners. Collaboration will be a key theme and Siemens has designed the event to optimize opportunities for education, networking and innovation. Entrance to the event is free although registration is required.
This year's event places a heavy emphasis on educating the incoming generation of young men and women who will need to fill the great demand for specialized jobs that digitalization will create. The number of open manufacturing jobs in the U.S. is at its highest point since 2000, according to the U.S. Department of Labor. Many of these jobs have gone unfilled because of a lack of qualified candidates. The time in right to draw in new people to address the looming skills gap. The way to drive interest is to build excitement around manufacturing.
MiA 2018 will be hosting a customized "Student Zone" event. Over 180 students from local Detroit area high schools, many of them young women with a keen interest in learning about the new world of manufacturing, will participate. Hands-on workshops will be held and students will be organized into small groups, participate in a series of technology rotations, and then tour the exhibit floor. Mission: witness first-hand that modern digitalized manufacturing has arrived.
Explore Digitalization As A Central Theme
Why all the excitement around digitalization? On many levels, digitalization increases process efficiencies while lowering costs and makes each individual along the line more productive, faster and more empowered to better execute their jobs.
Digitalization added-value kicks in at the very start of the product lifecycle. Design and engineering can now build machines and even entire plants in a virtual world where they can be tested as a proof of concept without any up-front investment on physical infrastructure. Such an approach makes it much easier to avoid building machines that don't work right. Thorough upstream testing allows for improved downstream efficiency, uptime and safety. Once the machine or factory is built and into production, its prebuilt digital twin can then be leveraged to test adjustments and compare to real situation outputs so that efficiencies can be further increased.
OEM machine builders and systems integrators are excited because cloud-based open Internet of Things (IoT) operating systems (like Siemens MindSphere), serve as a connected platform loaded with new apps that provide a range of new functions such as reducing security risks or improving the availability of connected machines and plants. For Siemens partners, this opens up a myriad of new opportunities for offering new services to end users.
At The Show
The MiA agenda is packed with activities all designed to stimulate new thinking around digitalization-driven innovation. Below is a high-level summary:
The Summit — At the Summit, which kicks off the MiA event, a select group of 300 executives and thought leaders gather to share insights on manufacturing trends and directions. This year's keynote speaker is Dr. Alan Beaulieu, President of ITR Economics. Co-author of the book Make Your Move, Dr. Beaulieu has been delivering award-winning workshops and economic analysis seminars in countries across the world over the last 25 years.
Digitalization — Throughout the show the digitalization theme will be evident everywhere that attendees look. Data is being analyzed in ways never seen before. New ways of executing traditional tasks will result in significant cost savings and in faster time to market. Concepts like predictive maintenance are now not only possible, but also advisable.
MindSphere — This open, cloud-based IoT operating system from Siemens lets you connect your machines and physical infrastructure to the digital world.
Exhibitions and seminars — An exhibition floor with over 50 vendors will host a wide variety of brand new demos that have never been seen before at any tradeshow. Over 100 seminars will address everything from engineering management, electrical engineering, controls engineering, facilities management, energy and sustainability to plant safety, operations and maintenance.
Food & Beverage industry experience — This is a special track (or forum) that will feature Food & Beverage-focused seminars, a private networking event and the highlight — the Food & Beverage Futures Forum — which will host some of the industry's most influential voices.
MIA achievement awards — This year's award nominees will be recognized for their outstanding contributions to community innovation and collaboration. The awards will be presented at the Summit and highlight Siemens and Electro-Matic customers and partners who advance business practices using Siemens technology.
The Manufacturing in America event runs from March 14 through 15. Attendance is complimentary but registration is required.